Since Spring has finally sprung, I thought it would be perfect timing to give our bedding a refresh. We had our old bedding for over 10 years,  so it was definitely time to replace it with something new. Not only were some areas on our sheets and comforter ripped, but it also felt very dated and dark. To freshen things up, I decided to go with all white bedding this time around, and I absolutely love it! There is something about white that makes everything feel so fresh, bright, and clean.
Of course this change can be very costly. Especially if you moved from a Queen bed to a King like we did. I would have slowly replaced things one at a time,  but since I found everything at HomeSense for such great prices, it allowed me to grab everything all at once!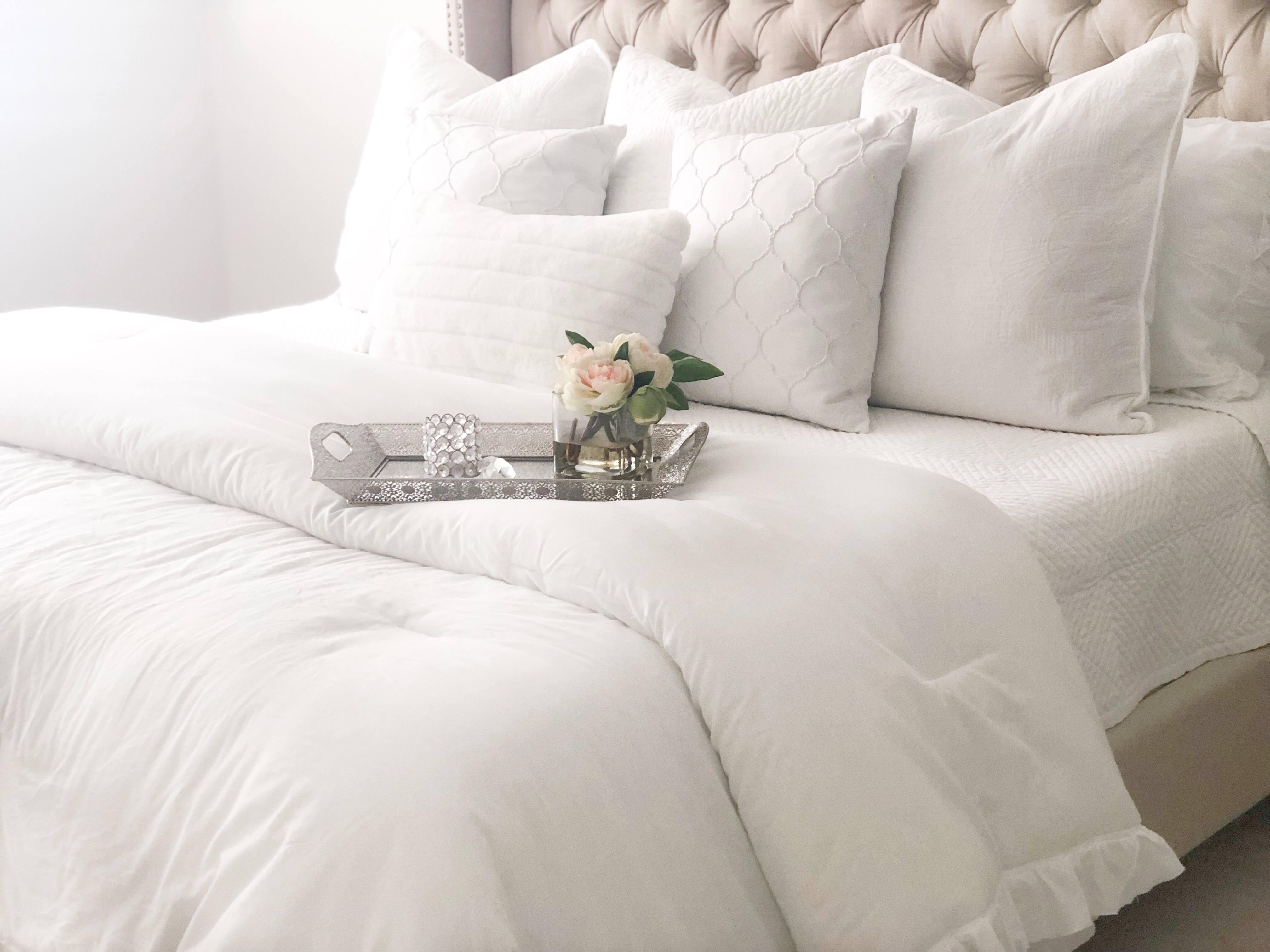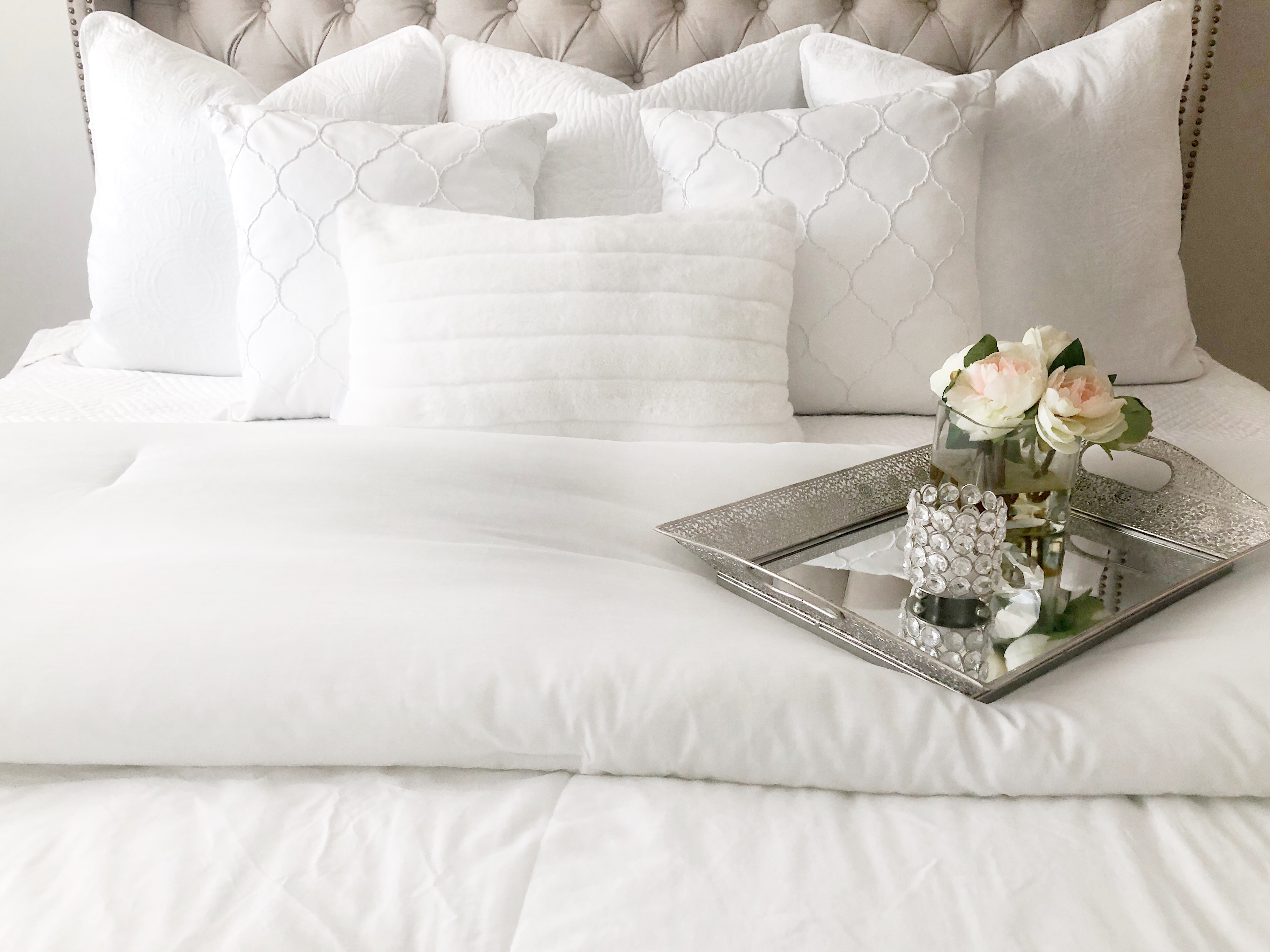 For those of you who know me, you already realize one of my FAVOURITE stores is HomeSense. For those of you who don't,  I am not joking when I tell you that I am at a HomeSense at least 2-3 times a week, and the associates know my name at most locations in my area. They also just opened an Oshawa location, so the drive to a HomeSense is even closer for me now. They get shipment every single day, so I am always heading in to see what new items they have in, and what deals I can find.
HomeSense has a large selection of bedding items if you want to give your bed a refresh as well.  I picked up a white King Sheet Set for only $59.99 (Regular $75). The set included 1 flat sheet, 1 fitted sheet, and 2 king pillow cases. The sheets are 500 thread count, and feel so soft and luxurious.
Something new that I added to our bed this time around was a Coverlet. Before we just had a comforter on our bed, but we found it too hot to use in the Spring and Summer months. So, this Coverlet is perfect for a light extra layer. I love the geometric pattern on it too. It was regular $115, but I found it at HomeSense for under $70.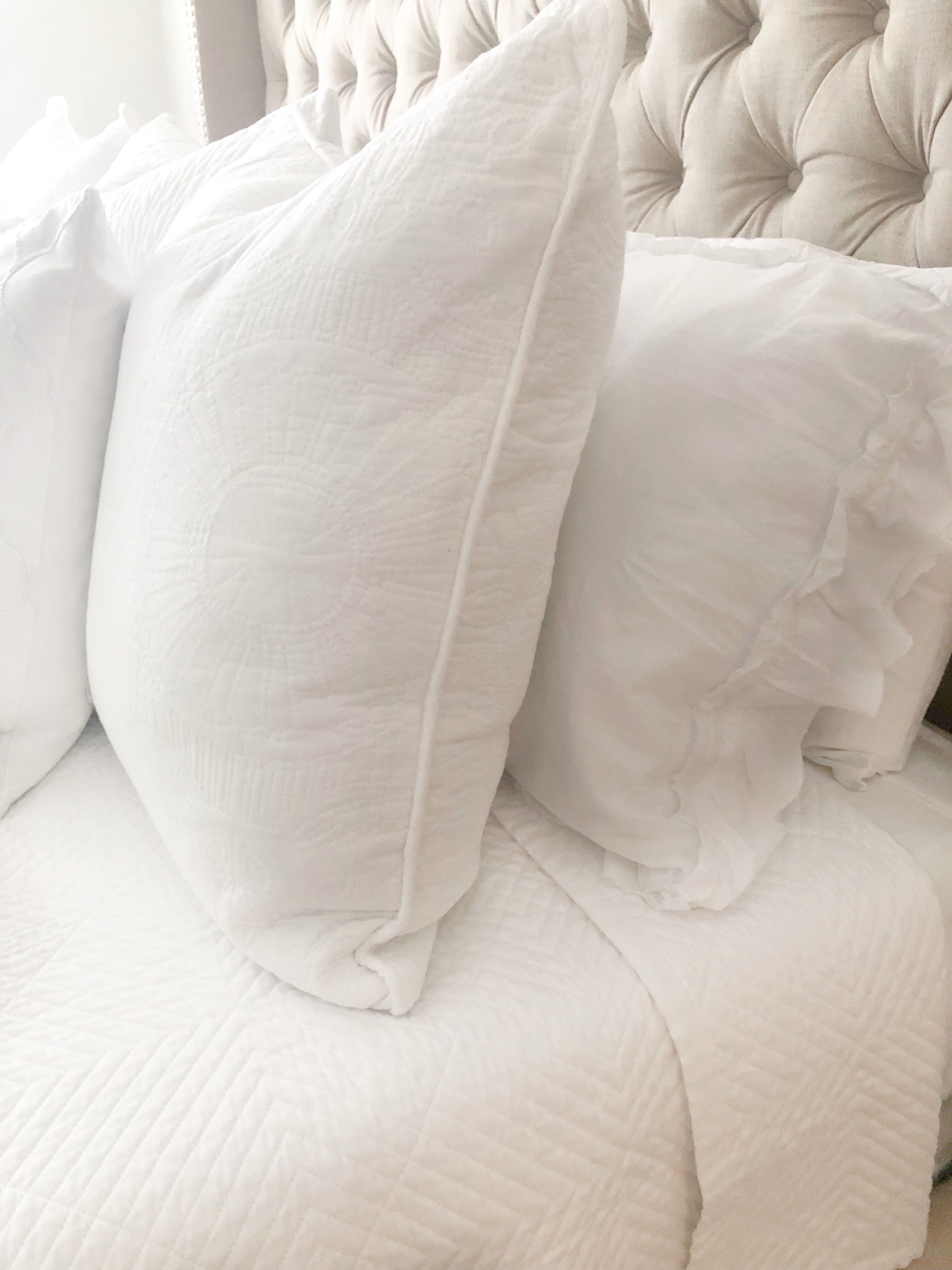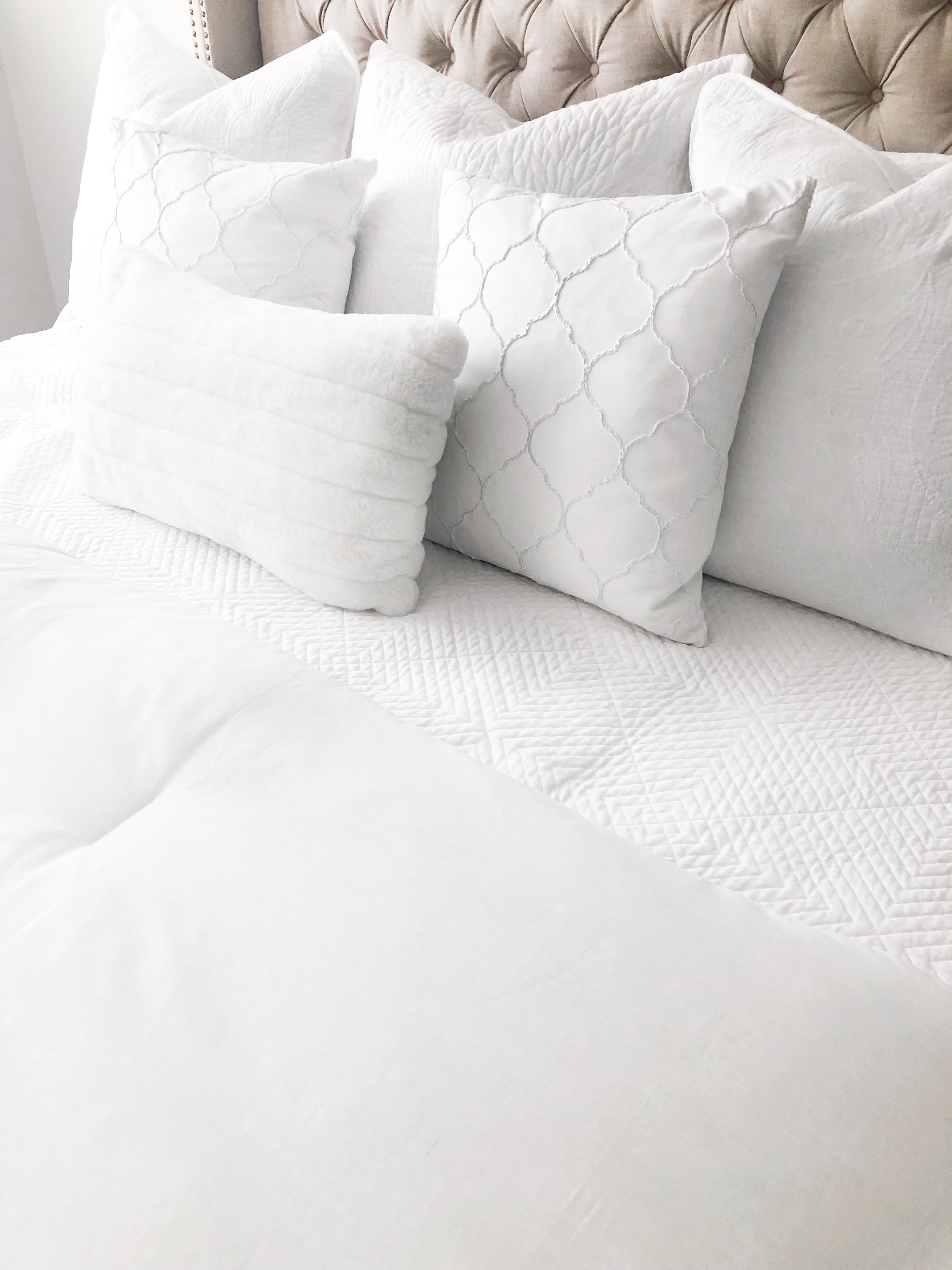 Next I found this beautiful ruffled edge king comforter set. The ruffles are what sold me right away. They give the bed such a soft, and elegant look. The set included a comforter, 2 king shams which I used at the top of the bed, and 2 decorative pillows which I put on an accent chair in the bedroom. I didn't want too much ruffle detail on the bed, or have everything match on the bed. I wanted to make sure I had many layers of pattern to create detail and interest. The comforter set I found for a steal at only $139.99, which was regular $230. This comforter is so nice and thick, and such a beautiful piece for the price.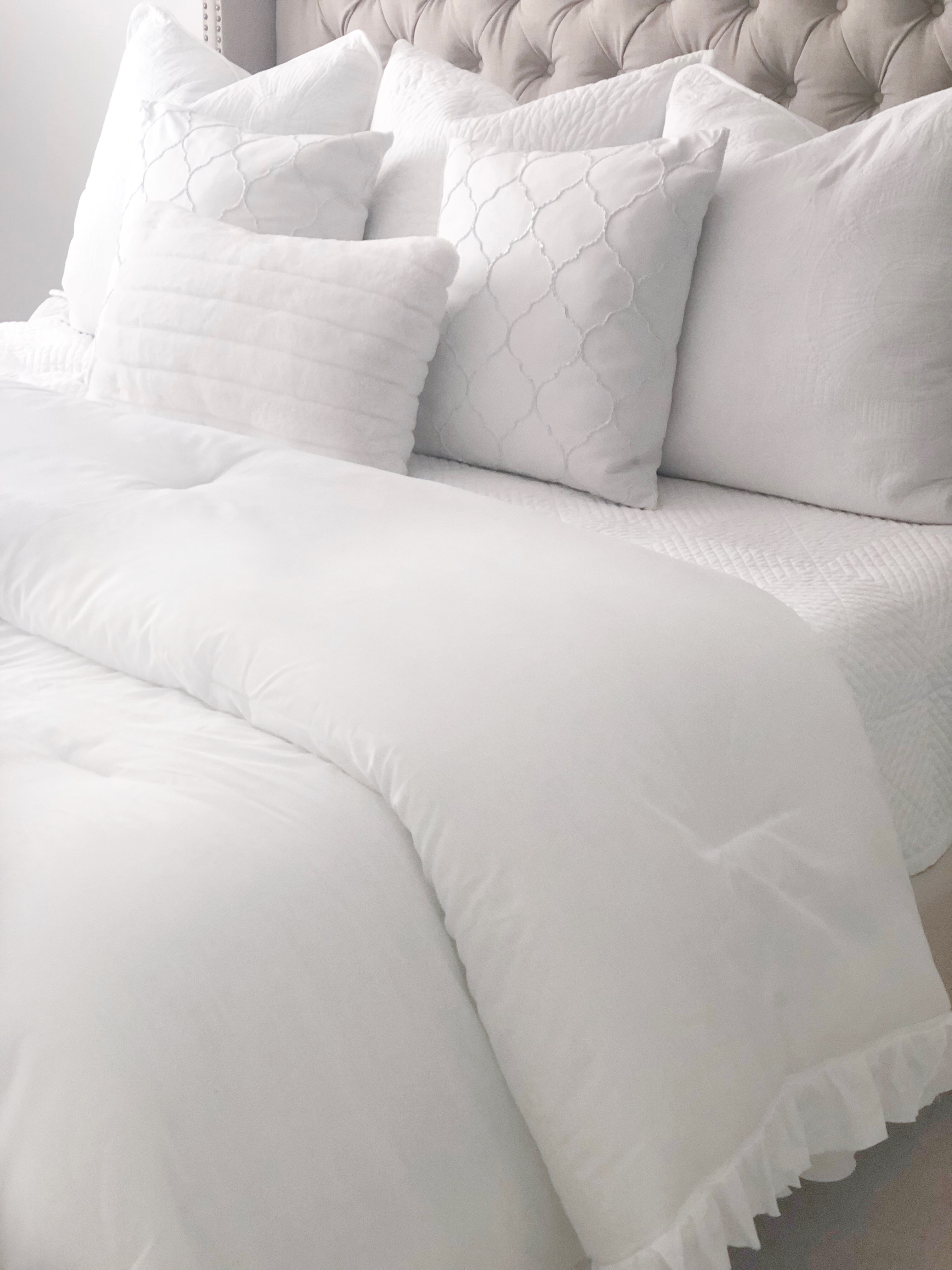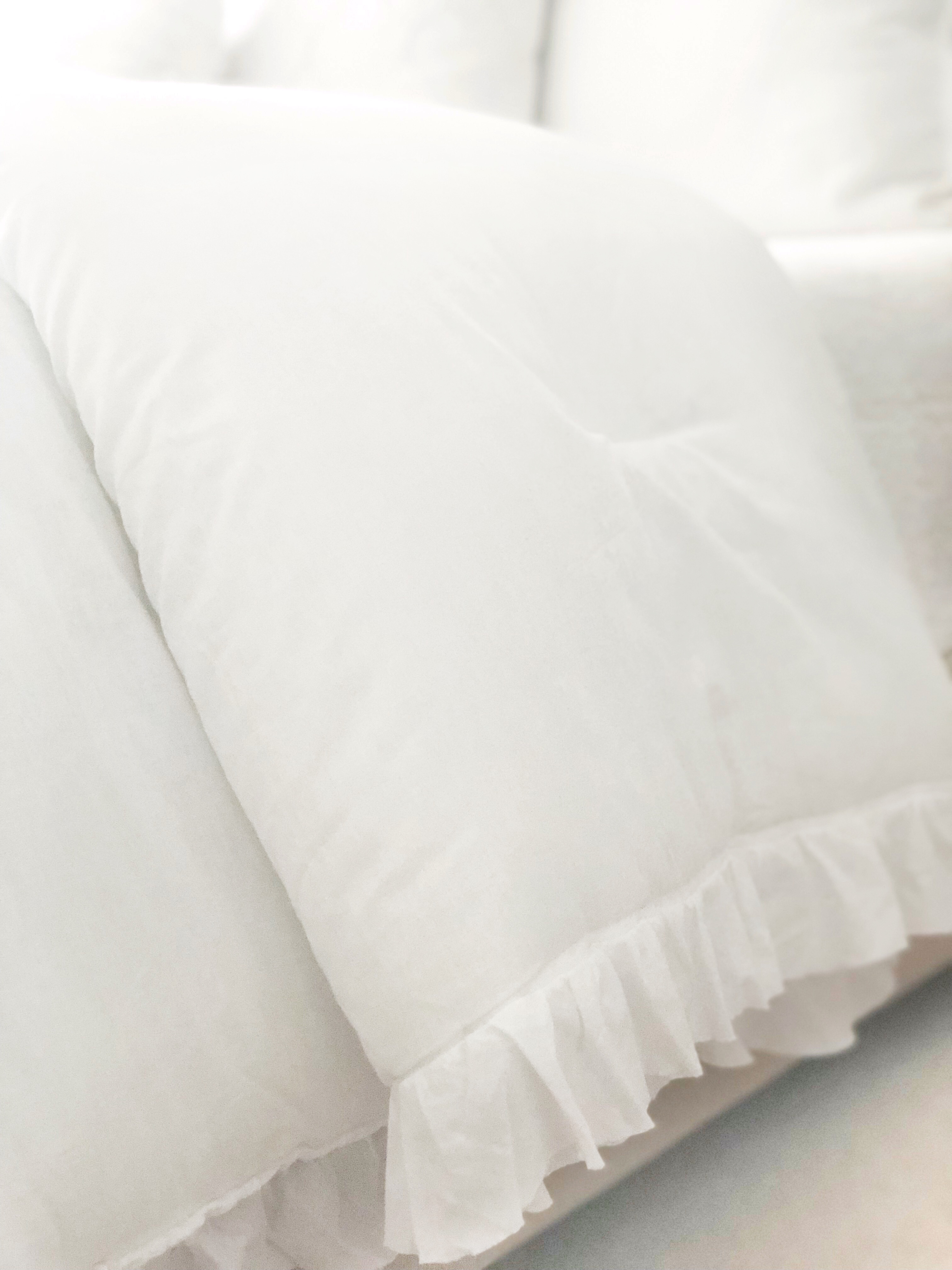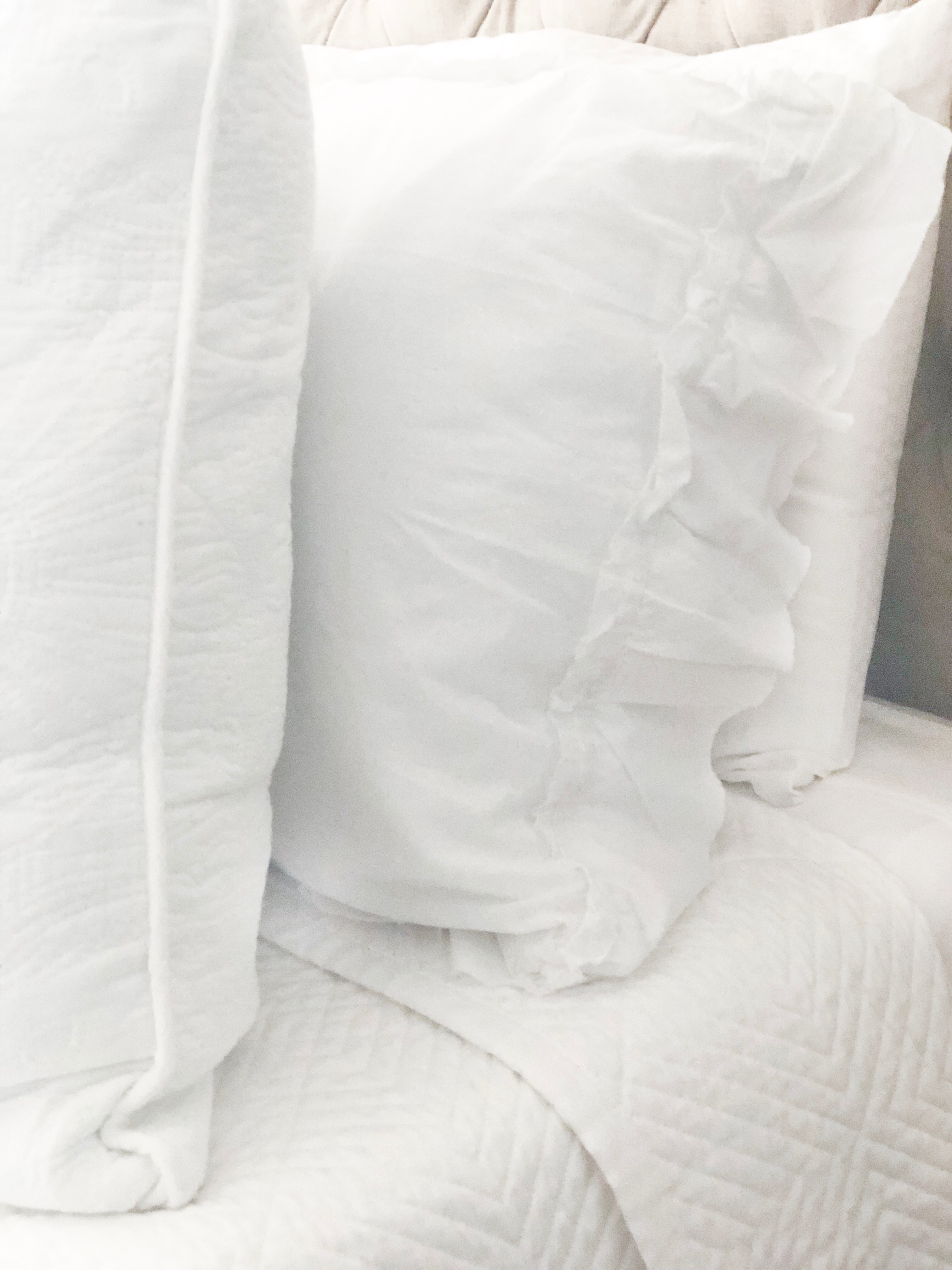 For more layering and dimension, you can see I went with all different types of patterned pillows for the bed.
Right after the 2 king ruffle shams, I went with 3 Euro Pillows because I have a king bed. If I still had a queen, I would of went with only 2 euro pillows. These euro pillows are 26 x 26, and I have them propped up in front of the shams. I chose 2 of the same pattern for the 2 sides, and a different pattern with the euro pillow in the middle. These pillows were only $29.99, and are a great way to give your bedding some height.
Next, I added 2 smaller 18 x 18 decorative pillows in front of the euros. These have a pretty pattern with a silver edging detail on them. Following these, is a soft faux fur rectangular pillow that I placed in the very front.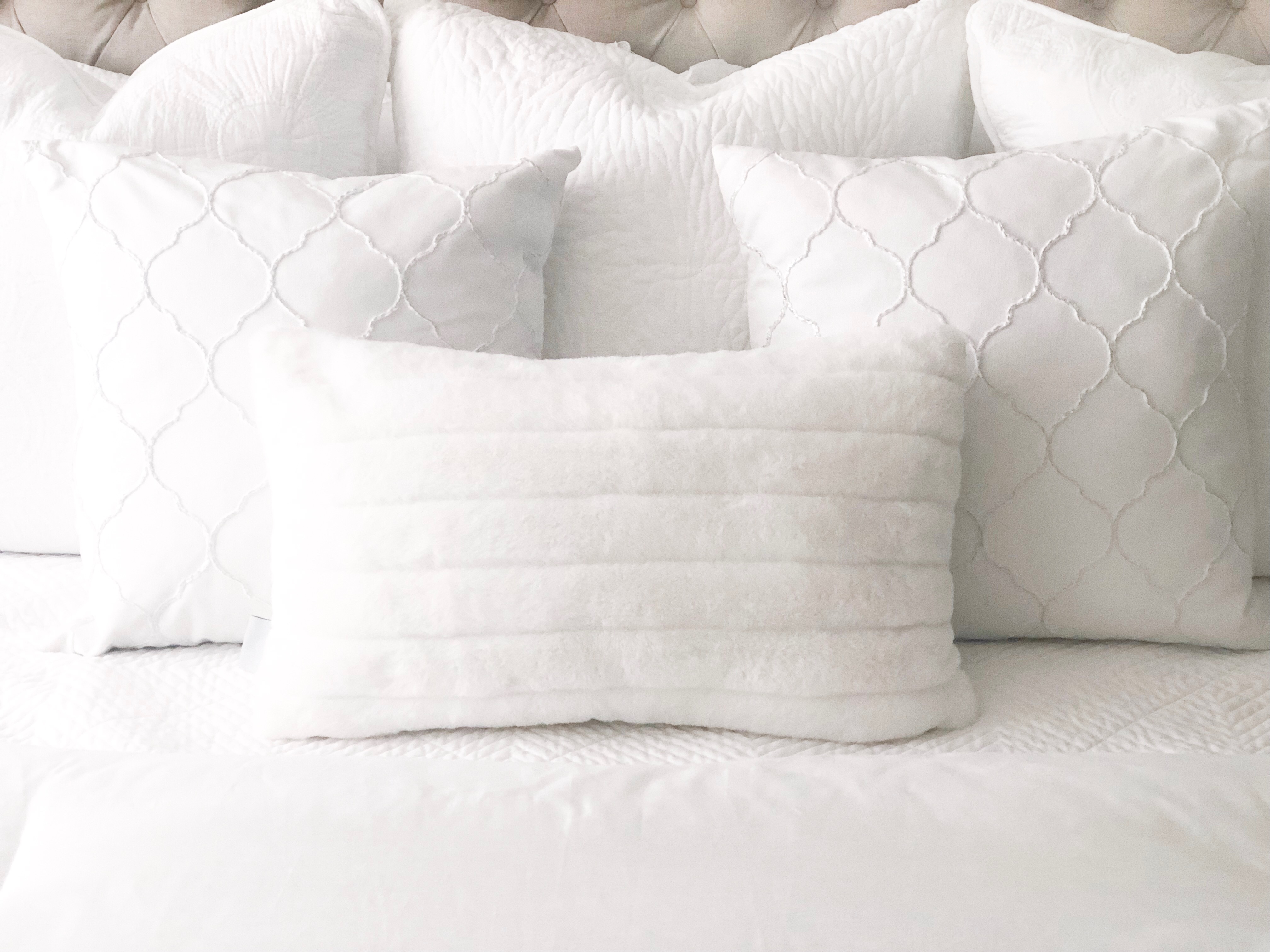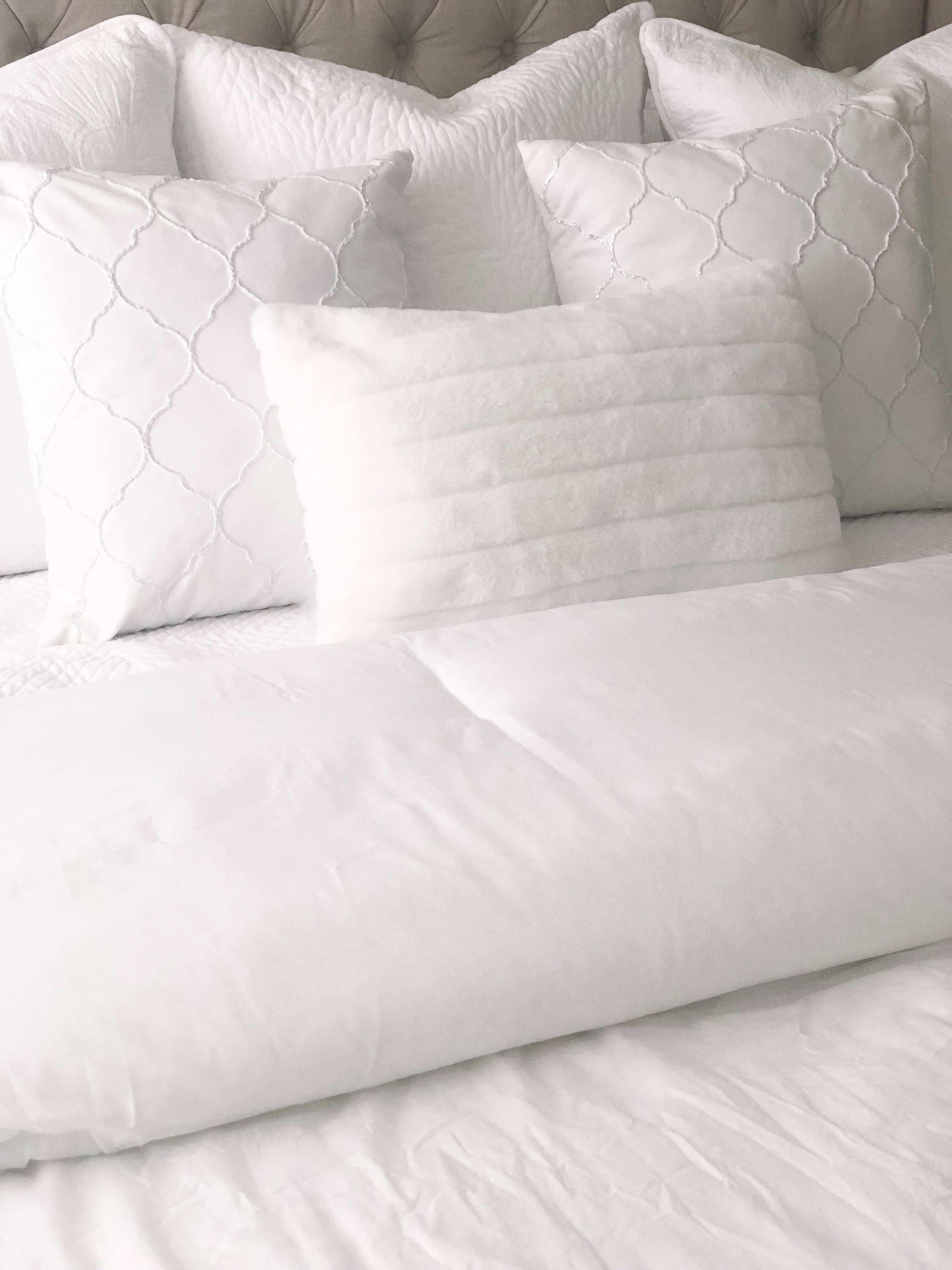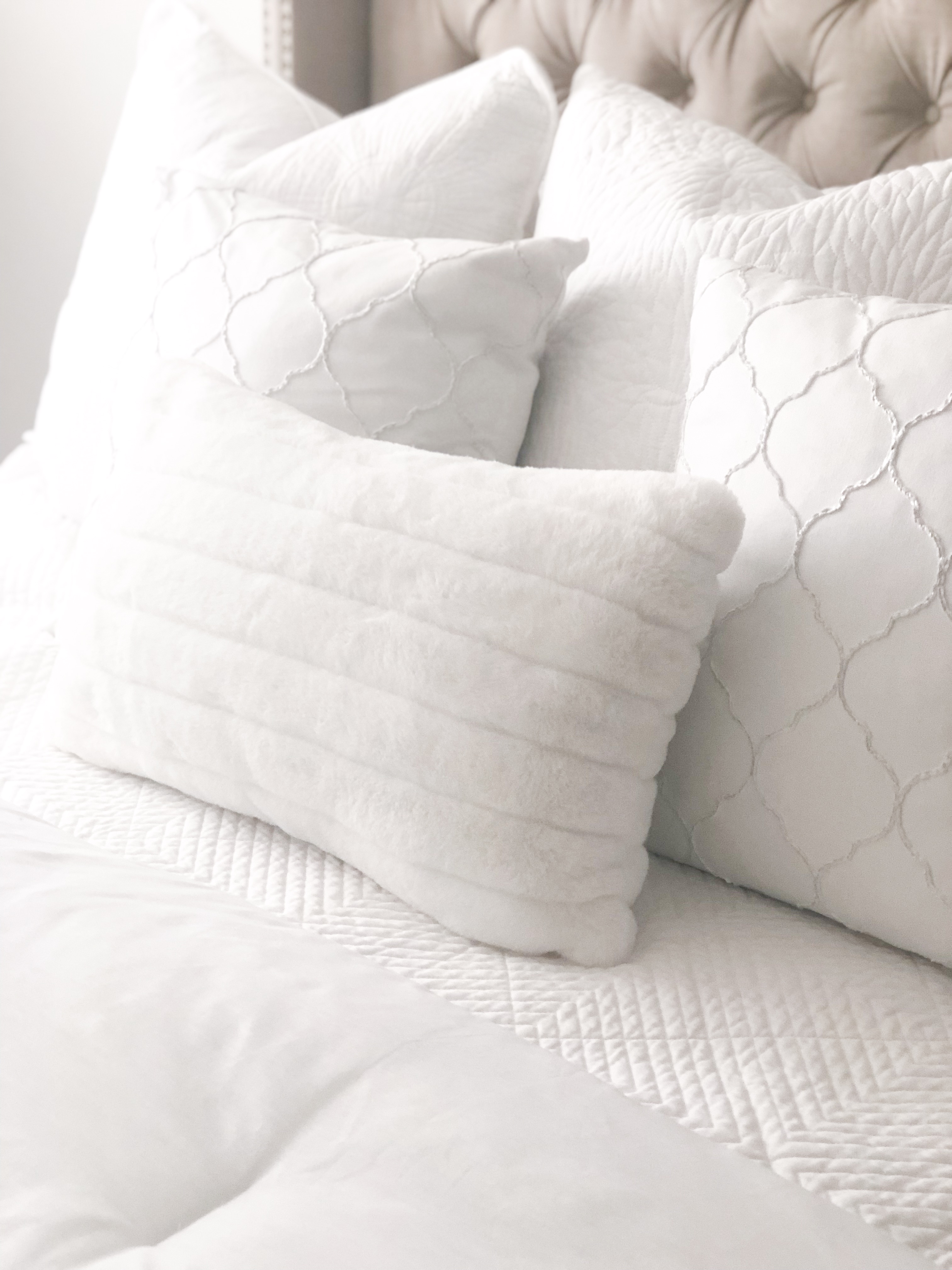 Finally, to complete the look I found this gorgeous silver tray to add to the top of the bed. Just small touches like these can totally make a room, and make it feel more elegant. The tray was only $24.99, and it can be styled with so many things, such as faux or fresh flowers, books, candles etc.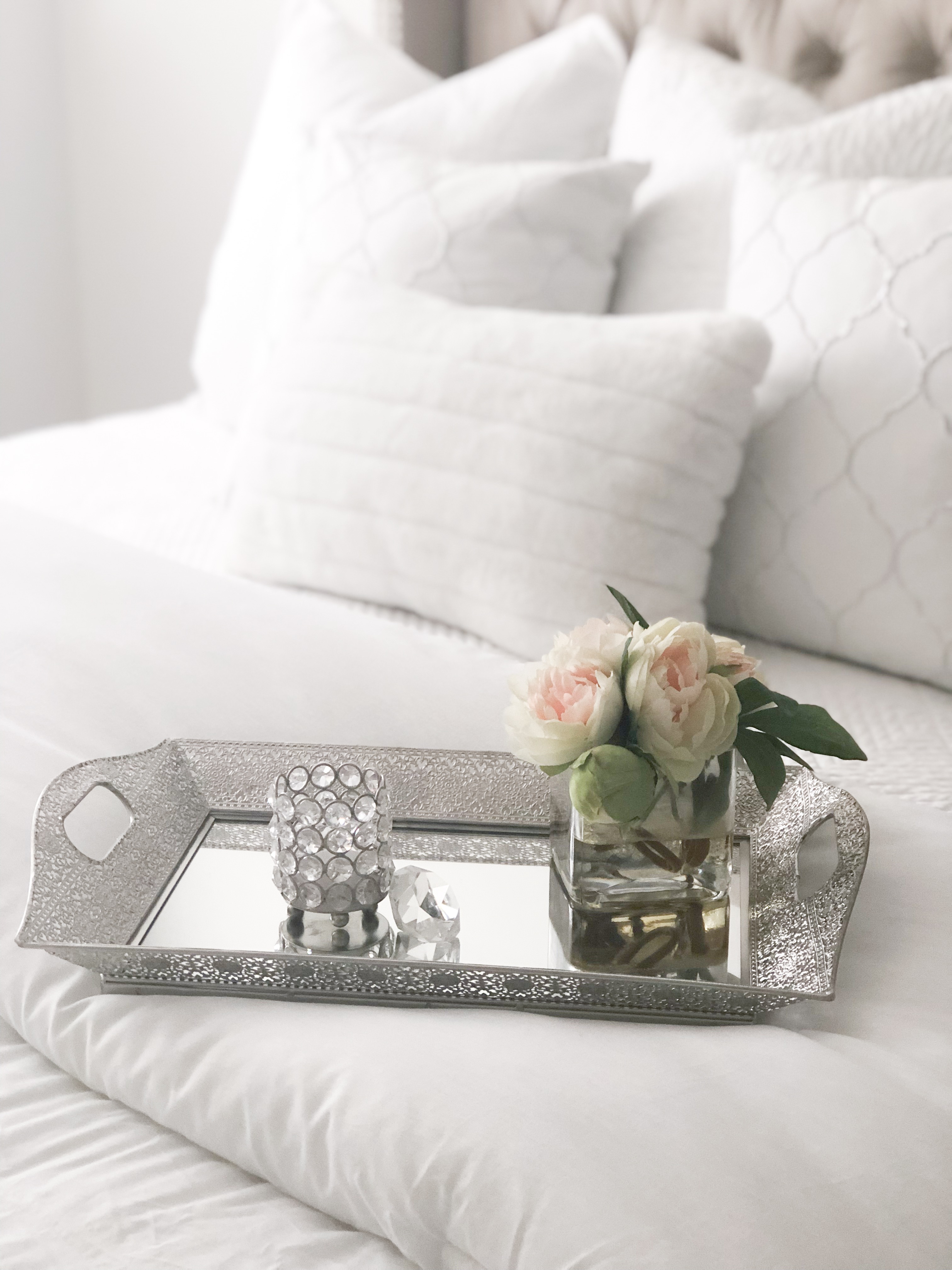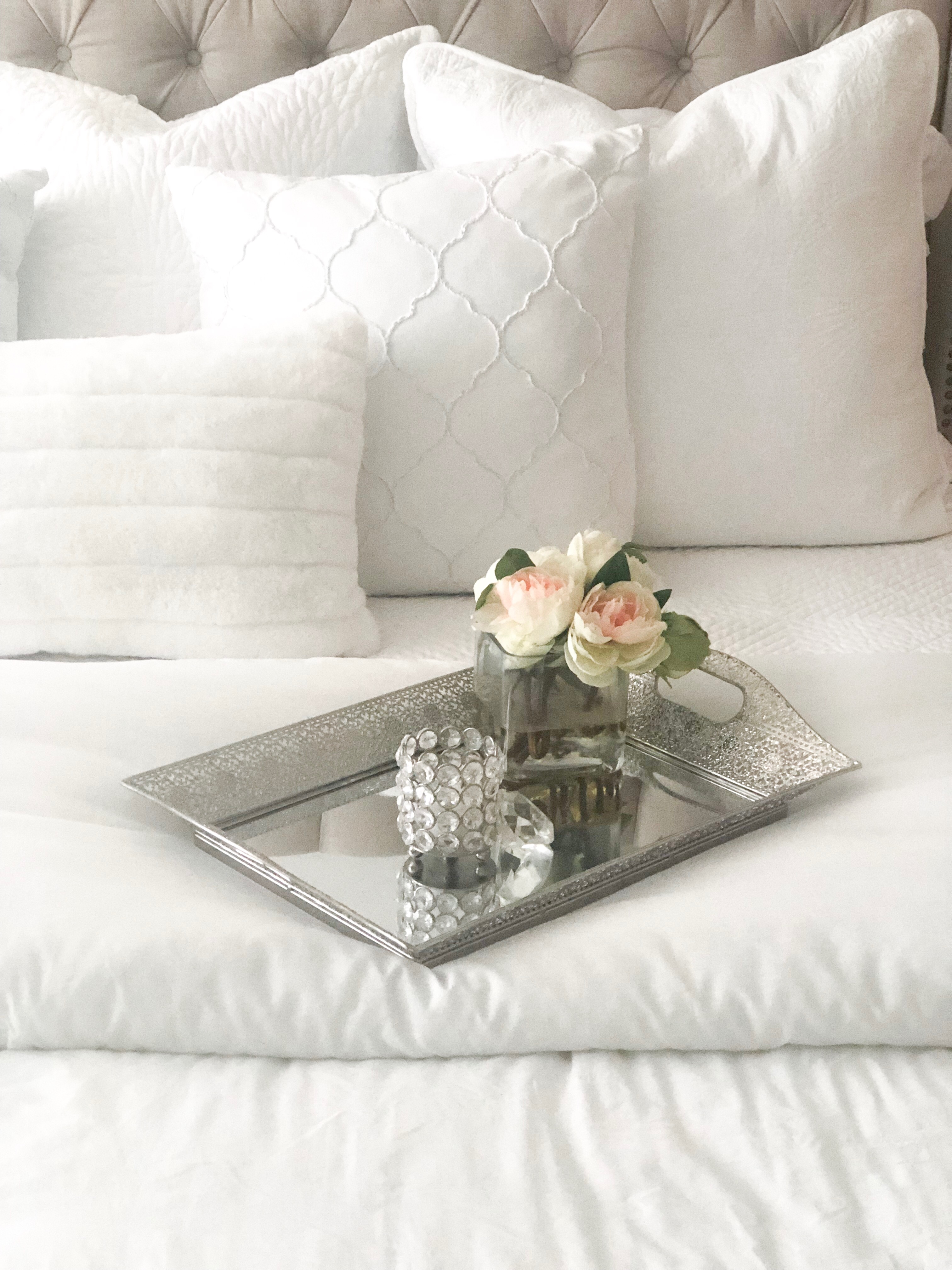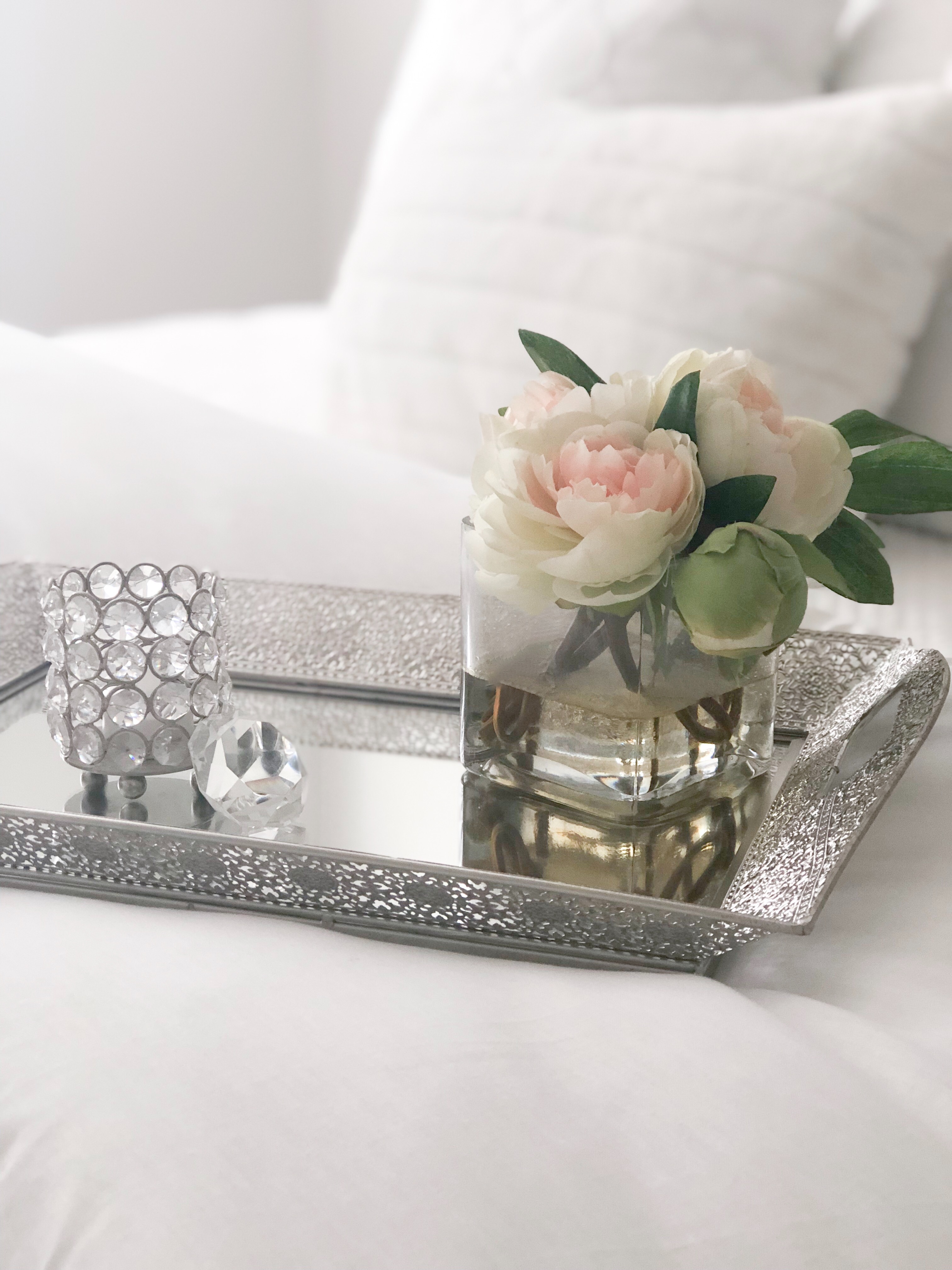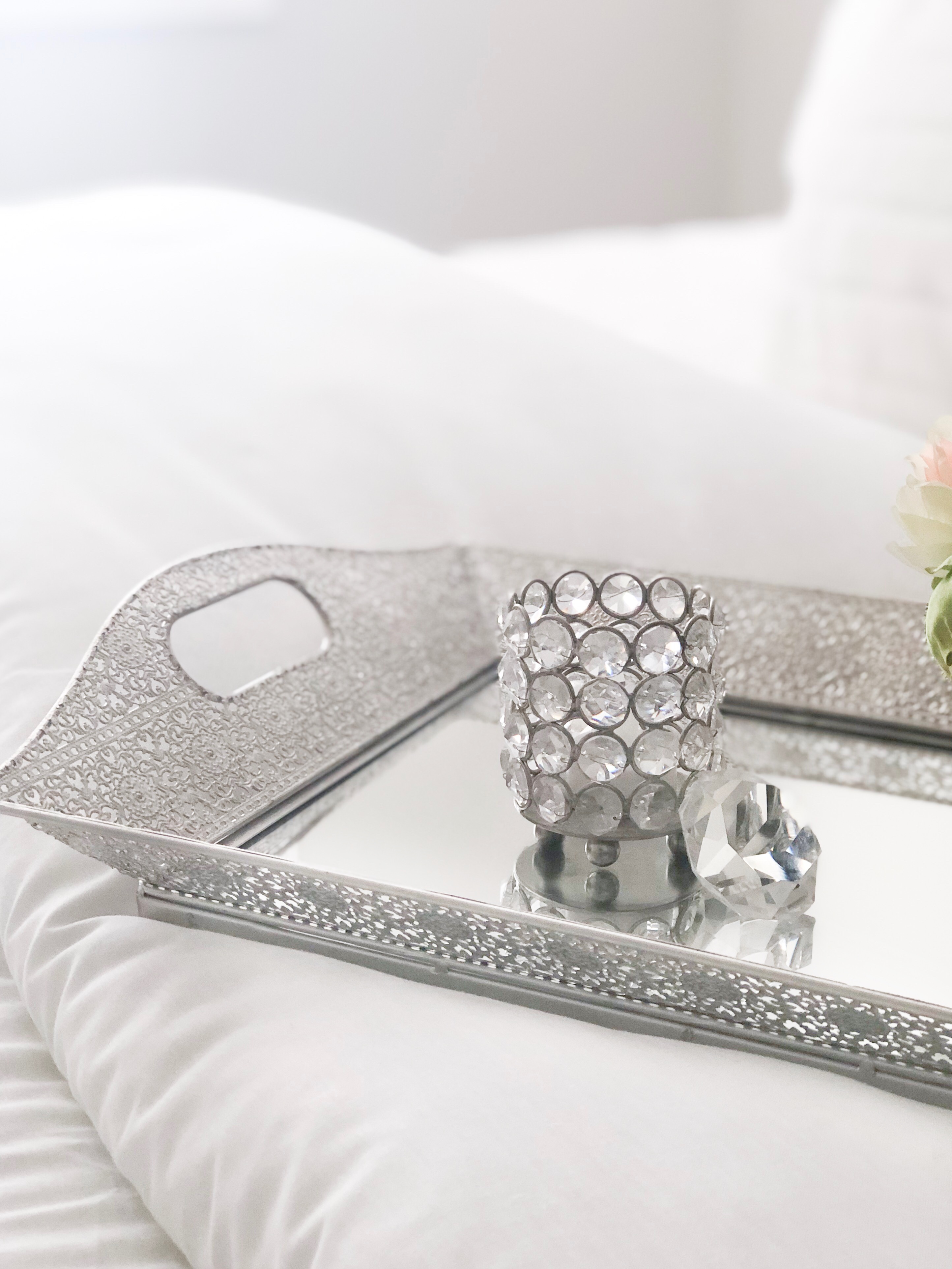 If you're doing a bedding in all one colour as well, like I said, it's best to mix different patterns and textures to give the space some character. You don't want your look to fall flat. Its all about the layers, and the details that make a look come together.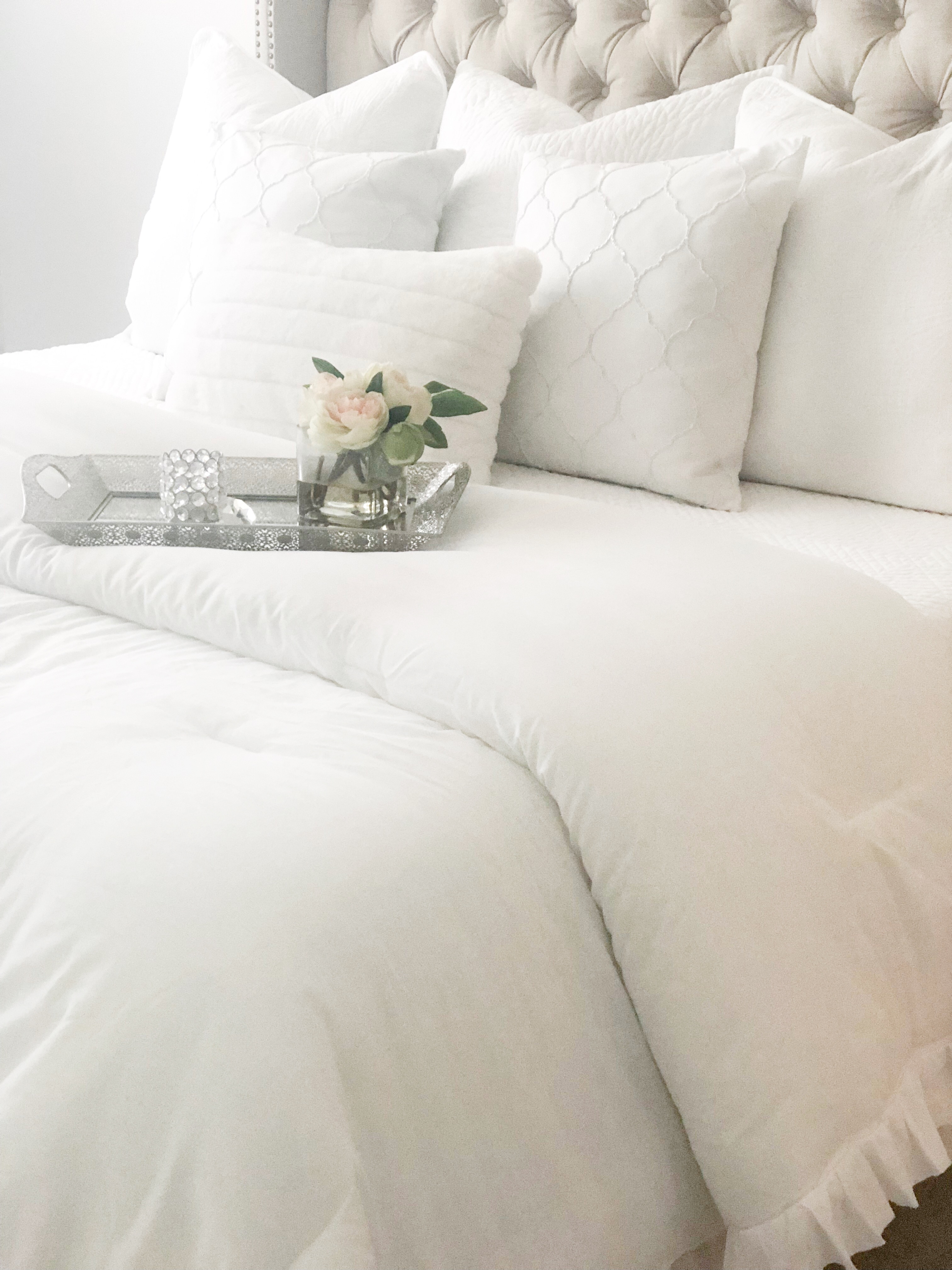 I hope I have inspired you to refresh either your bed, or a room in your home. Definitely check out HomeSense to help keep your budget in check. You will be amazed on how much you can save, and all the unique items you'll find! To find a HomeSense nearest you, head over to their website, here.
Disclaimer: Thanks so much to HomeSense Canada for partnering with me on this post