Over the past couple of months, I have gotten a lot of questions from you guys as to how I style my hair. Well, today I put together a quick step by step tutorial for using these Conair products.
Let me just start off by saying 3Q is for Quick, Quiet and Quality, so that should tell you something right there. This blow dryer dries my hair so fast. It's very powerful compared to my old dryer by far. As soon as I started using it, I could feel the difference of faster airflow. I find I am drying my hair in 1/2 the time, which helps speed up my styling routine.  It has 3 heat and 2 speed settings. I like to use it on the highest for both settings. Once my hair is dry, I switch the "Cold Shot" button on the handle to set my style in place.
I love that its very light weight as well.  I don't find my wrist or arm hurting by the time I finish blow drying my hair. This dryer is amazing quality, and much more quiet than most hair dryers I have owned. It has a brushless motor which lasts 10 x longer than a regular AC motor hair dryer, so it's definitely worth the investment. It also comes with a diffuser and concentrator attachment.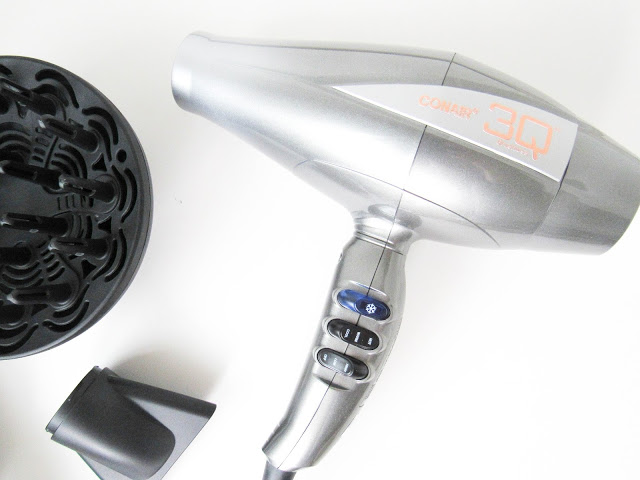 On days that I don't feel like curling my hair, I straighten it using the Conair Infiniti Pro flat Iron. This is part of their Elite Collection. Once I have finished blow drying my hair, I like to use the flat iron to smooth out any waves or frizz. I start by adding flat iron spray all of over my hair to protect it from the heat. Then starting at my roots, I grab sections of hair and slowly work the flat iron all the way to the ends of my hair.
As a bonus in the package, it also comes with a heat resistant thermal clutch to store your flat iron, and a 0.1 fl. oz. argan oil treatment.
How I like to style my hair most of the time is by curling it. I don't really like to use a curling iron, so I have been using a curling wand. I not only find it easier to use, but I feel I can curl my hair a lot quicker too. This one that I am using is the Infiniti Pro Steam Curling Wand, and it's amazing!
To begin, I section off the top half of my hair with a clip. I find clipping half my hair up makes it way easier to style.
Next, I grab small sections of hair and start wrapping it around the barrel away from my face. Now this is just my preference, some people like their curls curled towards their face, and others like the curls curled away from their face.
I like to hold it there for about 10 seconds or so, and pointing the wand downwards. I never really had a curling wand that had this feature before, but this one has a steam mist button which I am loving. Once you've held that piece of hair for 10 seconds, you can press the steam mist button that lets out a mist of water on your hair.
Once I am finished, I like to add hair spray all over my hair, so my curls last longer and don't drop. For more of a natural look, I like to flip my hair upside down, and run my hands through it to loosen the curls a bit. I don't like when they look too tight.
This curling wand also comes with an insulated thermal glove to protect your hands from getting burned. When I was new at using a curling wand, I would wear my glove all the time. Now that I have been using them for years now, I don't really use the glove, but I would still recommend you do. The wand gets pretty hot.
Would you like to win a Infiniti Pro 3Q Hair Dryer by Conair? I am giving 1 away to one lucky reader, all you have to do is enter via Rafflecopter below! Good Luck!