Christmas is not only my favourite time of year, it's always my busiest. Come the end of November, it's really hard to plan anything with us because I always have annual events I like to take the kids to on the weekends.
If you live in the Greater Toronto Area, I would definitely recommend trying to get out to at least one of these events as a family because they are super fun and your kids will have a blast!!
This is a lot of fun for kids. Starting Nov 22 on Saturdays and Sundays you can take the Santa Train that departs from Uxbridge. Santa visits each child at their seat and also gives them a treat. The ride is 1 hour in length and has entertainment on board for children of all ages.
Cost is $20 each for all passengers over 1 years old. Groups of 4 people are $74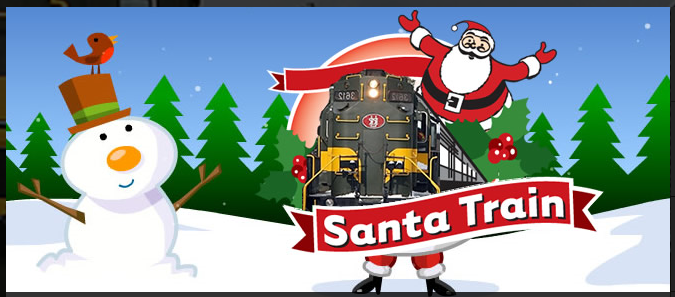 I LOVE going to this. I have been 3 years in a row and it just keeps getting better and better. Held at The Historic Distillery District from Nov 28 to Dec 21 and it's open 7 days a week! They have shopping, music, dance performances, festive treats and more. Santa is also there for pictures. I love walking through the cobble stone streets with a cup of hot chocolate and just enjoy all the Toronto Christmas Market has to offer!
Oh and did I mention admission is FREE?!

Casa Loma
is celebrating 100 years of Christmas and is inviting all families to join in the festivities. I haven't been to this event before but I am planning on attending this year.
Event runs from 9:30am to 5pm from Nov 27 to Dec 28th. Santa and Christmas Carollers will be there, they will have some crafts for the kids, cookie decorating at an extra cost and more.
10 Trees, 10 Decades Christmas Exhibition will be running. 10 Trees will be decorated lavishly by 10 of Canada's top designers.
Admission: Adults- $27, Youth & Seniors $21 and Children $17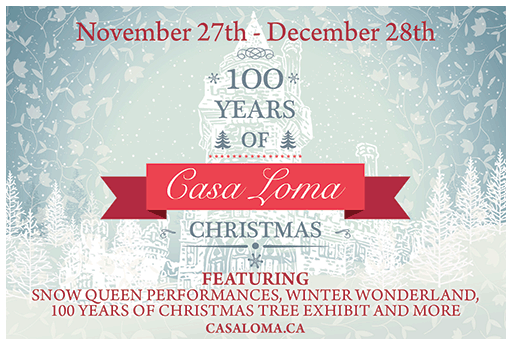 Variety Village
is a sports and recreation facility for people with all abilities. They are really more of a community than a facility because they are so close with their members and have great relationships. This is their 17th year hosting this amazing party which all proceeds go to help support
Variety Village.
I have been to this event 3 years in a row now and it's amazing! My son has a blast and even though we ALWAYS stay until the end he still cries when we have to leave. For $8 they provide you with lunch and an afternoon of activities.
The Waterfront BIA – Winterfest on Toronto's Waterfront
We have gone to this 2 years in a row now and I must say it's pretty awesome! Inside the Queen Quay Terminal they have crafts for the kids and new this year – a Frozen Ice Queen and Ice Princess Show.
Mariposa has a 1 hour Santa Cruise you can do as well which you can catch right outside the terminal. They offer free photos with Santa, crafts, face painting and dancing on the boat.
Winterfest runs Saturday and Sunday on December 13,14,20 and 21. Everything inside the terminal is Free but the boat cruise you do need to pay for.
If you pay in advance for the boat cruise, tickets are $14 or if you wish to purchase the day of on the boat they are $17. Children under 6 are free.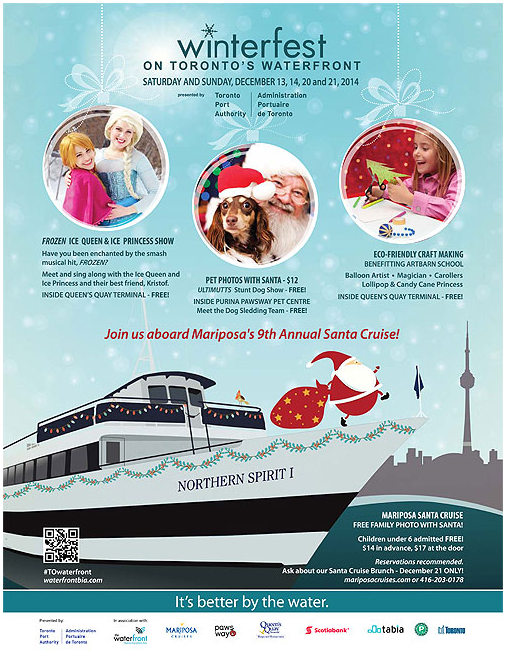 Christmas at Black Creek Pioneer Village
Starting November 22, visit Black Creek Pioneer Village for a tour of their historic houses and discover the origins of popular Christmas traditions today as well as traditional Christmas foods. Kids can make their Christmas card and on weekends enjoy a horse-drawn wagon ride around the historic Village as well as meet Santa in his cottage!