So anyone who knows me knows I have a MAJOR sweet tooth. Like seriously. I will eat half my dinner to save room for dessert. I am not sure which parent I got this wonderful trait from because both of them love sweets as well. When I used to live at home, no chocolate bar or piece of cake lasted long in our household. It's pretty bad that I have no control. I can't just have a bit or piece of something, I need to eat the whole thing and once I am done I am looking for more. I know- it's pretty disgusting.
I loved how everything was so organized. All the tables were already set up with all the ingredients and tools for the class. Since making truffles is a bit messy, we were all provided with disposable aprons and gloves so we wouldn't get our outfit or hands full of chocolate.
The class started off with a little history on chocolate, health benefits of chocolate, learning all the types of chocolate, how to melt it and temper it. We also got to sample 3 types of chocolate (White, Dark and Milk Chocolate)
Then the fun started! We all got 14 Truffle Shells that were already created with a mold that we got to fill with ganache. Then we had to seal them up by pouring chocolate on the top and then chilled them in the fridge to harden.
While those were in the fridge setting, we were all given a block of ganache to make truffles. We used a circle shape cutter and cut circles out of the ganache and rolled them into balls to make truffles.
We then dipped all the truffles into milk chocolate and decorated them. This is where it got messy as you can see from my photos. They gave us a bunch of options to choose from to decorate them. Dipping them in either cocoa power or coconut shavings, drizzling them with white chocolate or adding edible metallic dust. They also had plastic sheets with an edible design that you could press into the chocolate. Then once it was chilled, you remove the sheet and the design stuck to the chocolate.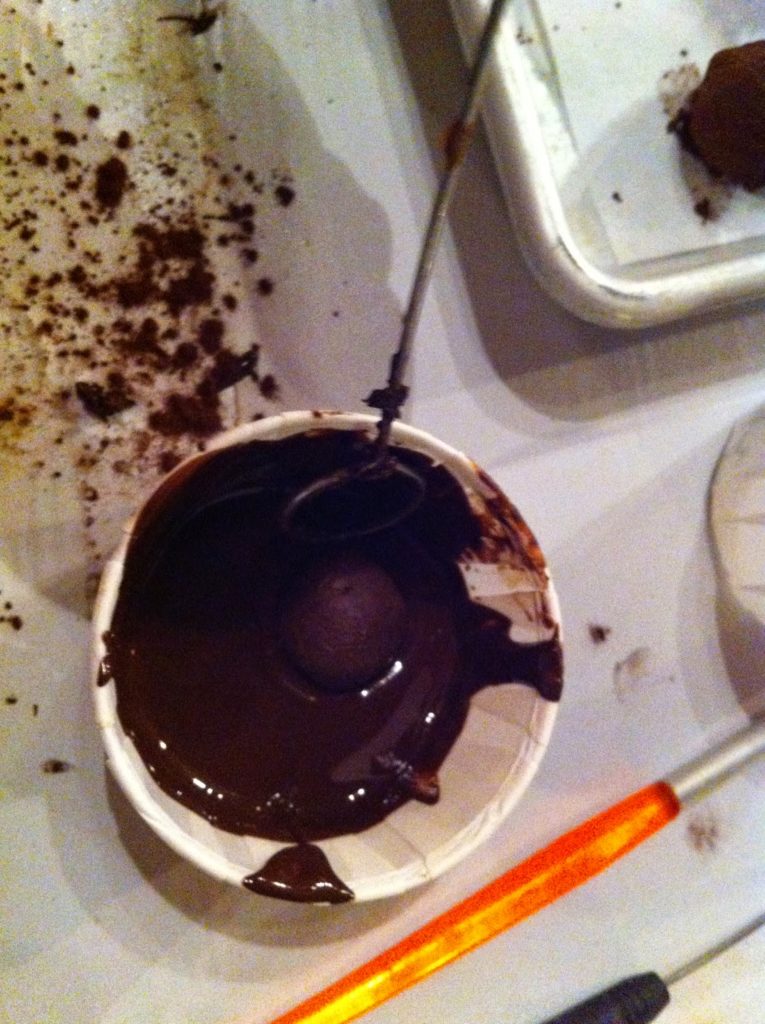 and Voila!
We all got to take home approx. 2 Dozen truffles. Well, to be honest I probably took home only a dozen because I ate about 6 before we left the class, and the other 6 in the car on the way home. We were provide little cello bags and a large box to put all our truffles in to take home.
I absolutely had a fantastic time at this class. It's perfect for either a girls night out or a date night with your husband. It's also great for all ages so you could even bring one of your children.
Ok ok I know after looking at these photos you want to take this class too! Well I have good news- YOU CAN! Chocolate Tales is giving away 2 gift cards for any workshop for you and a guest.
This contest starts today, Thursday, October 2nd, 2014 and closes at 12am on Thursday October 9th, 2014 EST. Winner will be selected randomly and announced on Friday, October 10th, 2014 . This contest is open to Canadian Residents Only. Good Luck!
(This contest is in no way affiliated or sponsored by Facebook. We hereby release them of any liability.)