Last week something pretty exciting happened to me -I was a guest on the Marilyn Denis Show! For most of my Canadian followers, you have probably heard of this show before, but for all my American followers, let me give you a little rundown.
The Marilyn Denis show is a live show that airs weekdays in Toronto on CTV. It's a mix of lifestyle and entertainment segments highlighting celebrity and expert guests.
A few months ago, I decided to write into the show to see if I could get some help/advice on how to transform my office into a walk in closet. Here are some of the pictures I sent in…
Master bedroom Closet
Office
I knew when we moved into our house our walk in closet was going to be an issue. It's just so small. We thought about maybe switching the bathroom to where the closet was. Then move the closet to where the bathroom was, but we knew the cost would be out of our budget. Thankfully, I came up with the idea to make our office into my walk in closet. My shoes were already in there because I didn't have the space in the closet so I thought it would be perfect!
I watch The Marilyn Denis Show often, so I was so excited when I got a call back to be on the show! I couldn't wait to see what ideas the designer had in mind for the space.
Before the live show aired, a field producer and camera crew came to my house to do my back story. They did a small interview with me and took some shots of my closet and office area. Then, a week later I had to go to the studio for the live taping.
Since the show is live at 10am EST, I had to be at the studio for 9am. I was allowed to bring 1 guest, so I asked my friend Patricia if she wanted to come with me.
Once we got to the studio, we checked in. Then someone took our bags and coats, and brought us to a holding room where all the audience/guests wait to be seated. Shortly after that, one of the producers introduced themselves to me and give me a little briefing as to what I should expect once we were live on air. They also gave me the option to get my makeup done as well.
As soon as the show started, my nerves set in. Luckily I was the second segment, so I had time to take some deep breaths and relax. Then, my segment was up. My backstory ran first, then Marilyn called up on set.
The expert advice I was given was from designer Andrew Pike. He talked about PAX Wardrobe systems from Ikea which are amazing! He showed me how you can customize everything to suit your needs. Then Marilyn surprised me with………

A $1,000 gift card to Ikea!!! I couldn't believe it! I was so happy! I just can't wait to start planning my dream closet!!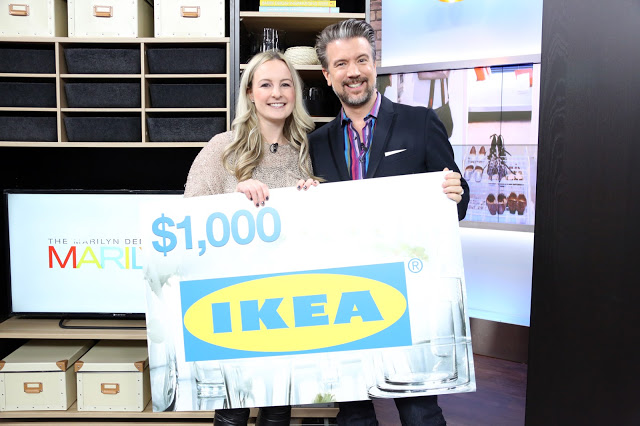 I have quite a bit of work ahead of me. I still need to paint the room, and decide which PAX wardrobe system will work for me. Stay tuned for the big reveal coming to the blog in the next couple of months!!