Yesterday my son had a PA Day. Since it totally slipped my mind, I woke up in a panic searching the internet trying to find something to do. Staying at home the entire day just doesn't work for us. We need to get out, even if it's for an hour or so. I find it helps pass the time, and doesn't make the day drag on. I even feel the same way about the weekends, I always look for something to do as a family to get us out and about for a couple of hours.
On Family Day Weekend, February 13-15, 2016, York Regions first annual Family Festival called
Kidapalooza
will be taking place at the Markham Fair Grounds. So, if you're looking for something do with the kids, this is the perfect place to be at!

Kidapalooza is an INDOOR Family Festival. Featuring over 35,000 square feet of activity stations, play zones, interactive inflatables, a performance stage, dance parties and over 30 vendors. This 3 day long celebration will be fun for the whole family!
You and your family can make crafts, participate in group art installations, play in the build it zone creating things with blocks, newspapers or sand, design a cardboard city, participate in mini yoga sessions or soccer demonstrations. Or you can ride through a bike trail, play dress up, visit a petting zoo, sing-a-long and take photos with princesses. There will even be a magic show and a wide variety of other stage shows to see. So much fun for the whole family!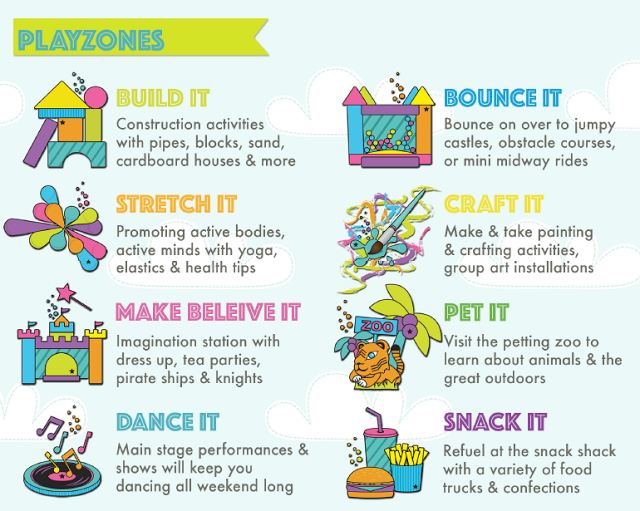 This event is perfect for a young family with children aged 2-12 years old.
Ticket prices are $8 for adults (18+), Children 2 and up are $25 (which gets them an All Access Pass) and Children 1 and under are FREE
Tickets can be purchased online or at the door. Door tickets are CASH only with ATM's available on-site.
Also FREE PARKING!!
Kidapalooza will run Saturday, February 13th from 10-7pm, Sunday, February 14th from 10-7pm and Monday, February 15th from 9-6pm. 
Would you like to win a Family Pack?! I am giving away 4 tickets (2 adults and 2 children) to 1 lucky reader!
Simply enter via the Rafflecopter App below. This contest is open to Canadian Resident Only. Good Luck!
For an additional chance to win….
Upload a photo of your child's best/worst mess to Instagram, Facebook or Twitter and make sure to hashtag #bestmesscontest #kidapaloozafamfest for your chance to win THE ULTIMATE FAMILY FUN PACK BELOW!