If you follow me on Instagram, you would remember I was in NYC back in August celebrating my 8th wedding Anniversary. During our stay, we were lucky enough to experience the famous afternoon tea at The Plaza hotel in the Palm Court.
The Palm Court is so beautiful and elegant. As soon as you walk into the hotel, the restaurant is straight ahead. I can't believe it's been around for over 100 years. The gorgeous stained-glass dome has everyone looking up while dining. It's so pretty!
Afternoon Tea is served daily from 12-5pm, and I strongly suggest to book a reservation because they book up all the time. We booked our reservation for 1pm. We had the choice of choosing from 2 options. "The New Yorker Tea" or "The Champagne Tea" Who could turn down champagne? so we went with the Champagne Afternoon Tea.
Once we were seated, we were given a menu of a wide selection of loose leaf teas to choose from. I got "The Des Amants" tea which is an apple, cinnamon and vanilla flavour. My husband got the "Rooibos Des Vahines" which is a Vanilla Almond flavour.
While we waited for our tea, they brought us 2 glasses of Champagne in these gorgeous glasses which had The Plaza's logo engraved on it. We got to chose from 2 types of Champagne as well, the Veuve Clicquot Brut or the Moet & Chandon Brut Rose Imperial, we went with the Veuve Clicquot Brut.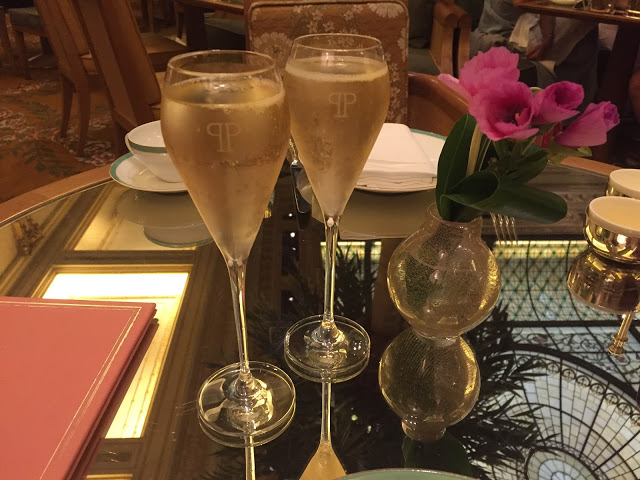 Our sandwiches and desserts were served on this beautiful 3 tier tray.
For our sandwiches and savories we had:
-Thyme Roasted Prime Rib Sandwich, Horseradish Aioli and Arugula on an Onion Roll
-Peekytoe Crab Salad, Green Apple, Cucumber, Black Truffle Oil, Grain Mustard Aioli on a Pretzel Crostini
-Foie Gras Torchon, Sweet & Sour Shallots, Cracked Hazelnuts, Fig Jam on a Toasted Brioche
-Hudson Valley Smoked Salmon, Smoked Salmon Mousse, Pickled Mustard Seeds, Pressed Cucumber
My favourite was the Lobster Roll, Daikon Sprouts on a Buttered Brioche Roll! Yum! They also have a Confit New Potato with Chive Crème Fraiche and American Sturgeon Caviar! It was my first time having Caviar and I have to say it was pretty good!
We also had freshly baked scones with Double Devonshire Cream and Lemon Curd and Preserves. They were so good!

For dessert we had a selection of pastries and sweets such as:
-Almond and Apple Frangipane Savarin
-Coffee and Brandy Chouquette

Everything was so good. We were stuffed after all that food. The experience we had eating at the Plaza was amazing! I so recommend going if you were visiting NYC. The service was excellent too. I kind of felt like we were treated like royalty, lol! Everything from the table setting, the service, and the food, it was so luxury.
Once we finished eating, we got to tour some of the rooms in the plaza. The rooms are GORGEOUS!
The first room we saw was "The Tower Room" The room and bed was in a round room with a 23 foot brick turret ceiling. It also overlooked Fifth Avenue as well.
The next suite we saw was " The Ellington Park Suite" It had 2 bedrooms and 2 bathrooms. The suite connected to another bedroom which would be perfect for a family. The parents would have the suite and the kids would be in the second bedroom. The suite had a very elegant living room, and the bedrooms were full of mosaic tile and gold accent pieces.