Being a mom can get so busy and tiring, so every month I like to get out of the house for some "Me" time. Making sure to find time for yourself I feel is so important. It helps you re-charge. I don't even need to be gone long, just an hour does the trick. I'm a girl who loves a good deal, so I always check out Groupon first to see if I can save some money.
I love Groupon. I use it all the time. I can always count on them to have a good Groupon running when I need it. There is so much of
Health, Beauty & Wellness Groupons
to find on Groupon. I never have a hard time finding anything.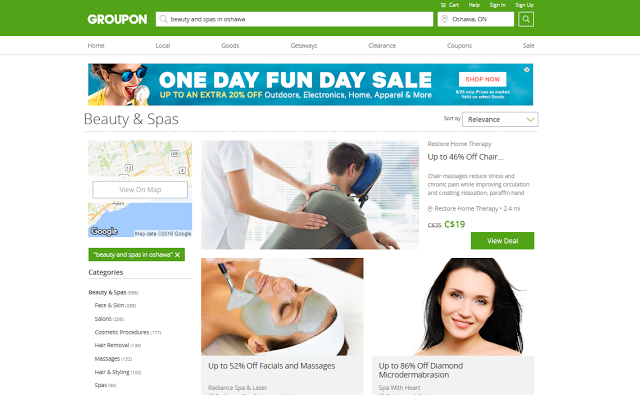 I like to rotate the services each month. There is always so much to choose from. One month I will get a facial, next month I will go for a massage, the following month I will either get a pedicure or manicure etc. I even find it fun to plan a girls night, and ask a few friends to join me. 🙂

Groupon has awesome getaways and restaurant deals too. Perfect for either a family trip or a date night! I also love Groupon Coupons to save money too because there is no membership required.
If you have never used Groupon before, I highly suggest trying it. It's super easy to use, and you can always count on good savings. Sign up for their email, so you can be the first to know about new deals that come up. Visit their website
here
This is a sponsored post but all opinions are my own.