Last week while we were on vacation in Naples, Florida, we had lunch at this gorgeous restaurant located in the Edgewater Beach Hotel called Coast.
We had heard such good things about this restaurant, so we decided to go and check it our ourselves. Getting into the hotel was a breeze, they offer complimentary valet at the entrance. Once we walked into the hotel, the restaurant was conveniently right in front of us.
Coast not only serves lunch, they are also open for breakfast and dinner 7 days a week. They offer seating indoors in their elegant dinning room, or outdoors on a beautiful terrace overlooking the pool and the ocean. They also have 2 lounge areas as well, and a bar with additional seating.
As soon as we entered the restaurant we were greeted by the friendly staff. We went for an early lunch at 11am and it wasn't that busy yet, so we had the option of sitting indoors or outdoors. While those leather chairs inside looked pretty comfy, we felt sitting on the terrace on such a beautiful afternoon would be the way to go. The view was so breath taking!! I do suggest that you make a reservation anyways for whatever time you choose, just to be on the safe side.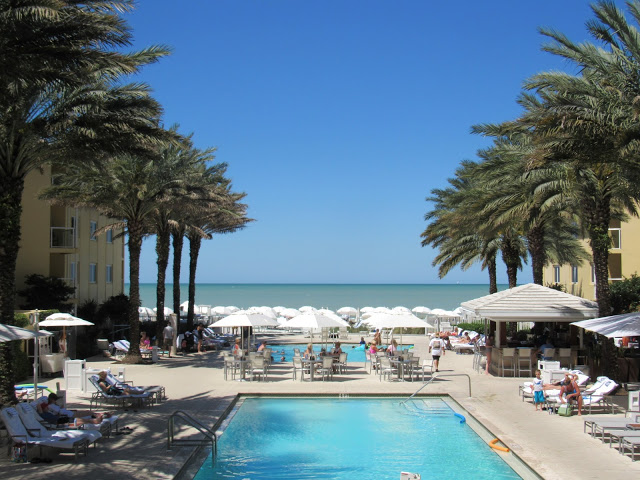 Deciding what to eat for lunch was so difficult. Everything sounded so good! We ended up choosing the Traditional New England Lobster Roll ($20), Grouper Sandwich ($20), Cobb Salad ($15) and our kids got the pancakes ($7)
I got the Lobster Roll and it was amazing! Huge chunks of lobster on a toasted bun. You also have the choice of fruit, chips or French fries for your side and I chose fruit. My husband had the Grouper Sandwich, and I just had to have a bite of it because it looked so good. It had lettuce, tomato, caramelized onions and this awesome key lime tartar sauce on it. The cobb salad was so yummy too- I think the papaya ranch dressing made it! I couldn't believe how big the order of pancakes were. It came with 4 large pancakes and fed both kids perfectly.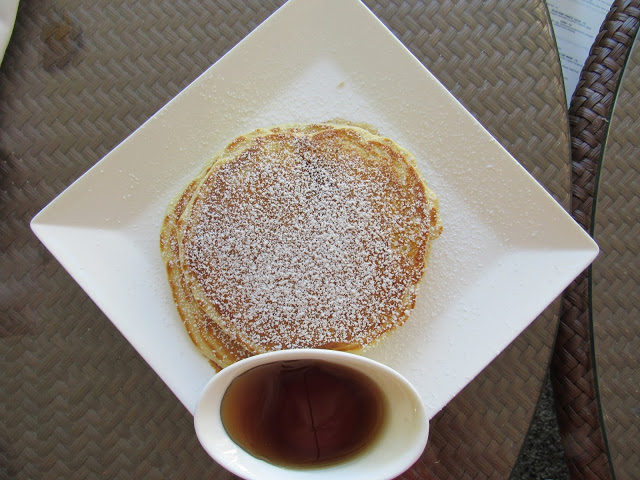 Once we finished our lunch we were lucky enough to get a tour of the hotel, including a few of their very popular rooms.
The first room we looked at was a Gulf View Suite. It had a king size bed, private balcony, a small kitchen and a desk. The view was so pretty- it over looked the pool and ocean. Similar to our view at Coast.
The second room we toured was a Naples View Suite. It also had a king bed, kitchen, dinning area, and a private balcony that over looks Naples Bay.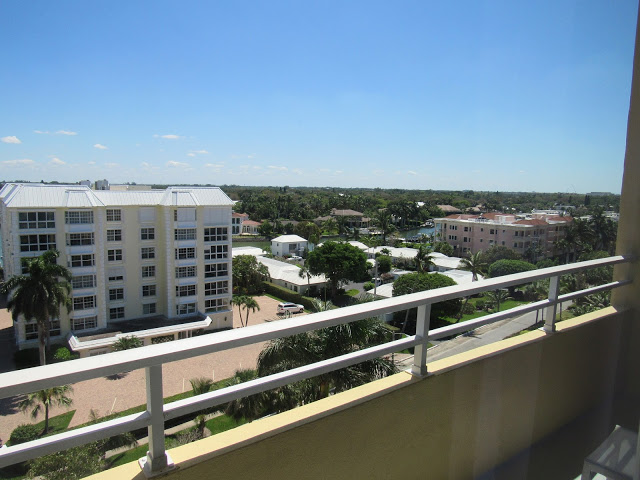 My favourite room was the Beachfront Suite. OMG I felt like I was in a house in Malibu. You have direct access to the beach from your back door!! Talk about luxury living and convenience. You are literally 5 steps from the beach. This room also had a king size bed, kitchen, and 2 balconies. One in the main area and one in the bedroom.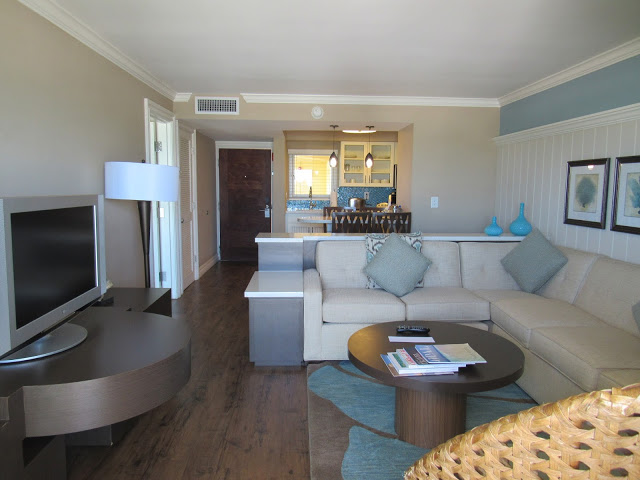 The pool area is very spacious and steps away from the beach. They also have a bar in the pool area with seating to grab a drink or bite to eat. Just beyond the pool, they have a fire pit area which would be really great at night to grab a drink, listen to the ocean waves, and watch the sun set.