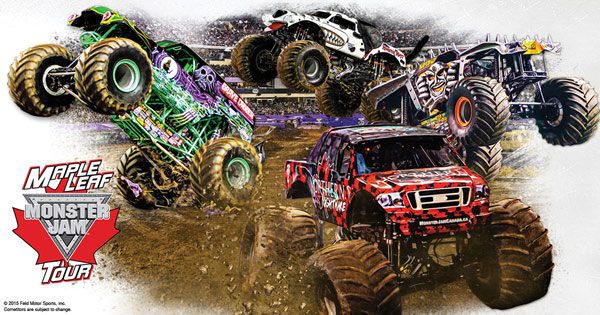 At the beginning of the year we took our son to Monster Jam at the Rogers Centre in Toronto. You can read about our night
here
. It was our first time attending a show, and we had a blast! It was such a fun, action packed, family event!
We are so fortunate, and excited to be going again to the show this January, held at the Rogers Centre once again.
Seeing how our son still talks about the Monster Jam show to this day, we decided to surprise him at Christmas that we were going back again. Since I don't have the tickets on hand, (we are picking them up at "will call") I bought a few monster trucks, and wrapped them up, and added a note inside.
As soon as he saw the trucks he knew right away. He was sooo excited. He was jumping up and down and basically ready to run out the door. lol
It's going to be a long 3 weeks before the show….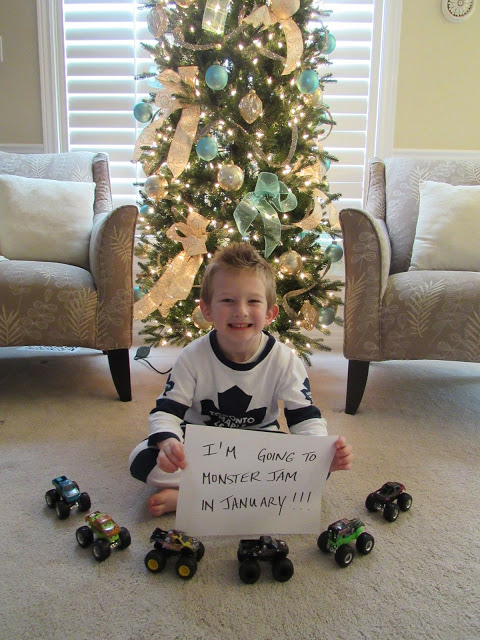 They will be offering 2 shows in Toronto at the Rogers Centre. Friday, January 16 at 7:00pm and Saturday, January 17 at 2:00pm.
Want to know some fun facts about the show?
At Monster Jam, monster trucks face
off in two different forms of competition — side-by-side racing and
freestyle:



Side-by-side racing – traditional
bracket racing, where the first truck, with the least amount of
penalties, crosses the finish line is declared the winner.
Freestyle competition – allows
drivers a limited amount of time on the open floor to show off their
skills. In this category, the fans serve as the judges.
2007
was the 25 year anniversary for the Grave Digger Team
More
than 4 million Monster Jam fans attend events each year worldwide
The
World Finals in Las Vegas, NV brings 24 of the top trucks in the world to
compete for the World Freestyle and Racing Championships. Competitors are by invitation only.
A
monster truck race team will travel 45,000 Miles / 72,400 kilometers a
year by land to attend events.
Typical
monster trucks cost $600,000 yearly to build, staff, compete, transport
and maintain on the Monster Jam tour.
Steel body full-size cars are
the vehicles typically crushed during a monster truck event.
o Cars, as
well as vans, buses, motor homes, airplanes and ambulances, are attained from
local junkyards and returned after each event.
o Average number of cars crushed per year: 3,000.
If you haven't been to a show before, here is a small clip


You can purchase tickets through Ticketmaster
here
or by phone at 855-985-5000. They are also available at the Rogers Centre box office as well.
Or you can try to win tickets by entering my giveaway below.
I am giving away a family pack of 4 tickets to the opening show on January 16, at 7:00pm, at the Rogers Centre in Toronto.
Simply enter via the Rafflecopter App below. This contest is open to Canadian Residents Only. Good Luck!
(This contest is in no way affiliated or sponsored by Facebook. We hereby release them of any liability.)