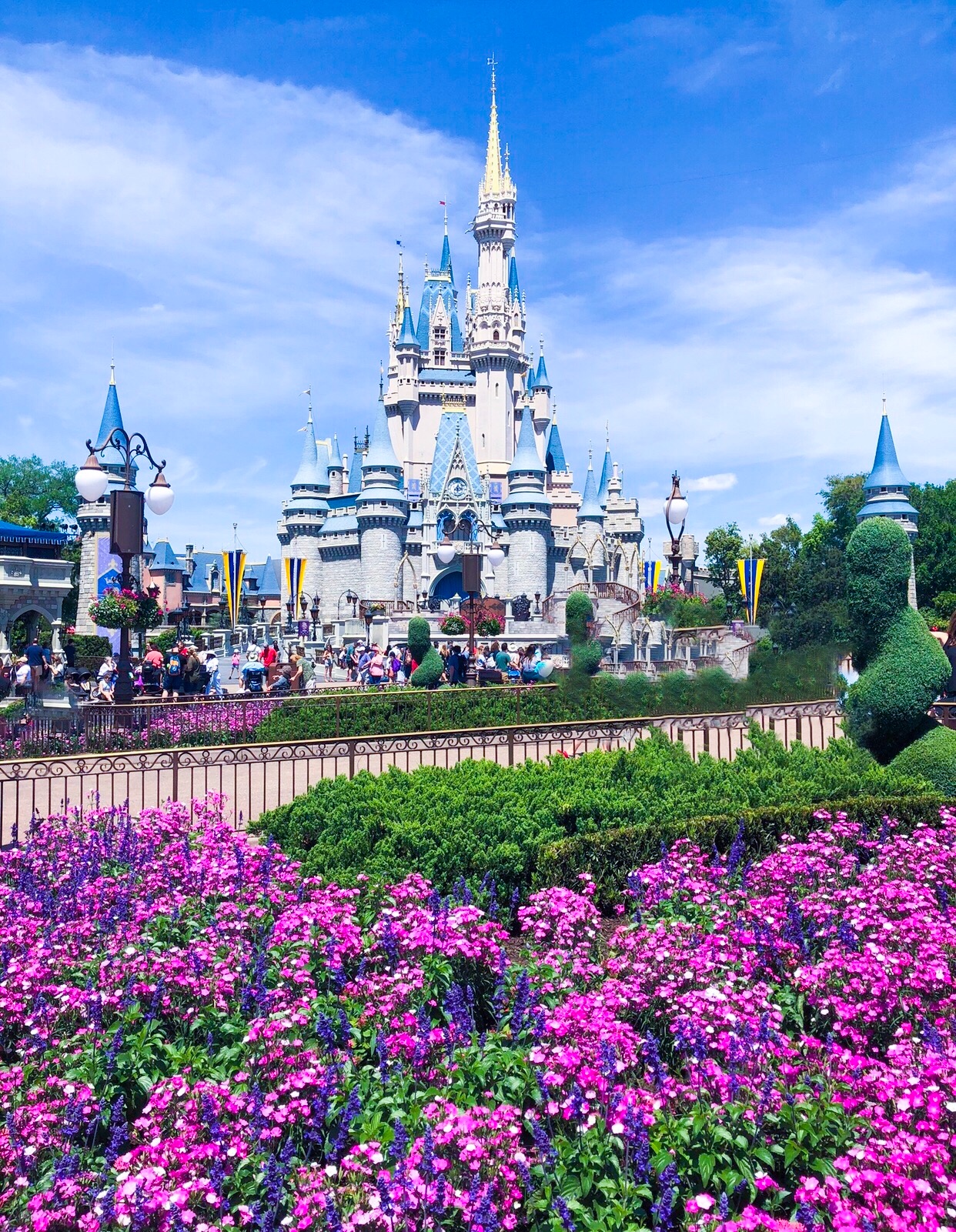 If you remember back in April, we went to Florida for our family vacation. During our stay, we decided to spend 2 days at Disney. The two parks we went to this year were Epcot, and of course Magic Kingdom. This was our third visit to Disney World with the kids. When we were there 4 years ago, we did just Magic Kingdom, and 2 years ago we did Animal Kingdom, and Magic Kingdom. During those visits, we learned a lot of tips, and tricks that helped make our stay successful, so I thought I'd share them with you.
#1- Get the Disney App!
This is a must! As soon as I booked our vacation, I downloaded the app right away. I was able to link our tickets, hotel, and dining reservations so everything was all in one place. You can also book your fast passes through the app as well, and modify them if you want to make changes to the time, or even change a ride. We also ordered food through the app as well to avoid the long line ups when we were there. Hands down the best part about getting the app is the map of each park, which also has the wait times for all the rides. The maps are beautifully laid out, and easy to follow. You can narrow down your search, and check by category to find where the characters are, restrooms, shops, and so much more! The wait time for the rides is in real time as well, you just need to keep refreshing the page, and it will tell you how long the lines are for each ride in the park.
#2- Book your park days during Extra Magic Hours
If you are flexible with your dates, try and book your parks during Extra Magic Hours to give you the most time. Now this perk is only available for guests staying on the resort. On select days, the parks open before, or after their regular operating hours, giving you more time at the park.  For more information on Magic Hours click here
When we were booking our trip, we made sure to go when Magic Kingdom had Extra Magic Hours, so we could enjoy the park for as long as possible. It was so great. In previous visits to Disney, once the fireworks were over, we headed straight to the bus and headed back to the hotel because the park was closing. Not this year. Since the park was open until midnight, we got to go back on the rides, and enjoy the park longer. This was really the best time to go on the rides too, because most of the lines were shorter.
#3- Book your Fast Passes back to back
You are allowed to book up to 3 Fast Passes at one park. So, when booking those Fast Passes, try to book them one after another ( ex. 9 am, 10 am, 11 am) that way once you have finished your third Fast Pass, you can book another one on the app if there are some still available. Always try to get them as early, and close together if possible. Remember, if you are staying on the resort, you can book your Fast Passes 60 days in advance! So, as my friend Lena from Listen to Lena strongly recommended to me, set your alarm, and at midnight on the 60th day go book your Fast Passes, so you can choose from the best selection of times available.
#4- Get to the park at Rope Drop!
To get a head-start on the crowds, try to arrive at the park of your choice at rope drop. By getting there extra early, it will be less busy getting to the park. The buses will be less crammed, and the line for security won't be as long. Plus if there are some rides that you weren't able to get a Fast Pass for, getting there right when the park opens might help you to get on those rides. We got to Epcot at rope drop this year because we weren't able to get a fast pass for Soarin'.  We managed to get on right away because we went straight to Soarin' as soon as the park opened. It's totally worth getting there extra early if you can, and run to the ride you really want to go on if you didn't manage to get a fast pass
#5- Start at the back of the park and work your way up
To avoid a lot of the crowds, start at the back of the park first, and slowly make your way to the entrance. You'll find you will get on a lot more rides if you do it this way. Everyone always runs to the first ride they see when they enter the park. If you go straight to the back, hardly anyone is around you so you can get on a lot of the rides before everyone makes it to the back of the park. I also like to snap a few pictures at this time as well, since no one is really around and won't be in your shot.
#6- Take Advantage of Rider Switch Service
I didn't even know about this the first 2 times I went to Disney. The Rider Switch allows an adult to wait with a child that is unable to ride an attraction, and then go on the attraction themselves without waiting in line again. We took advantage of this service a few times this year. My daughter was scared to go on Soarin' and a couple of the roller coasters, so my husband and I got to switch each time to go on with my son while one of us waited with our daughter.
#7- Wear Comfortable Shoes
I know this sounds like a no-brainer, but we saw so many people in the wrong footwear at Disney. I even saw a few people in line buying another pair of shoes, because their feet hurt so badly from the footwear they were wearing. We tracked our steps when we were at the parks, and we walked over 18,000 steps in 1 day. We all wore comfortable running shoes, and never had any issues with our feet hurting.
#8- Bring Snacks
Before we headed to Disney World, we stopped off at a grocery store and bought a ton of snacks for the kids. Fruit, granola bars, goldfish crackers, bear paws, muffins etc. Buying food at the parks is quite expensive, so to save on cost, we brought in all the snacks so we just had to pay for our lunches and dinners. We also brought our water bottles from home to fill them with water throughout the day. You can ask any food station for some ice water, and they will give it to you in a cup for free. They also have buckets of popcorn that you can pay to have unlimited refills as well if you wanted to buy a snack.
#9- Bring a Back Pack
This is key. I didn't want to bring a purse and have to carry it on my shoulder. Plus our wrist bands were connected to our room, so we charged everything to the hotel. I wanted to be hands free with the kids, and I was scared if I brought my purse I'd loose it. My husband and I actually brought a back pack each. One had all the drinks, and snacks inside, and the other had the kids hats, sunscreen, and sweaters for when it got cold at night.
#10- Get a spot early for the parade, fireworks and light shows
The Disney Festival of Fantasy Parade at Magic Kingdom is amazing, so I highly suggest grabbing a spot early on the curb on Main Street. The streets fill up quickly, so about an hr before we started grabbing a seat to make sure we got a good view. Same goes for the fireworks, and the light show. It's sooooo good!!! We try and get as close to the castle as possible so that requires getting a spot pretty early as well. This year we got the closest we have ever been. I held a spot about a 1.5 hr before the show started, while my husband took the kids on some more rides.
If you're planning a trip to Disney in the near future, I really hope these tips help make your trip extra special. Feel free to email me if you have any questions!
Disclaimer: Thanks so much to Walt Disney World for partnering with me on this post.