On Monday we got back from our 1 night stay at Great Wolf Lodge in Niagara Falls. This was our 2nd time visiting and I have to say we had a blast! The first time we went was back in March, but there is something about going around Christmas time that makes it that much more special. Everything inside was decorated so nicely, and seeing the whole place lit up on the outside was beautiful.
You are allowed to start using the water park at 1pm the day you arrive, so we made sure we got there an hour early to check in. After checking it, they gave us a place to store our bags until our room was ready. Once all that was taken care of, we got into our bathing suits and headed to the water park!
Before heading into the park, the kids needed to be measured to see which slides they were allowed to go on. My son was so happy he had grown a bit more compared to last year because he was able to go on some new slides.
Out of all the water slides they have, I would have to stay the Canada Vortex and Niagara Rapids Run were my favourite. My husband loved the newest slide that they have called the Wolf Tail. You step onto this launch pad and the floor drops from under you. Then you fall 20 feet nearly vertical. It's crazy! I definitely won't be trying that! My son's favourite was the Wooly Mammoth and went on it with us over and over again!
Being that my daughter was too small for the larger slides, she loved to play in the toddler area. There were 4 perfect sized slides that she was able to go down. I liked that they were side by side because sometimes my son would go down one next to her and she loved it! They also had basketball nets in the water, so they loved taking turns throwing the ball in the net.

The park also has a wave pool, and lazy river where we spent a lot of time because all 4 of us could be together at the same time. The wave pool was nice because it has a shallow end for my daughter to splash around in, and my son played in the deeper end. They got so excited when the waves started, they were kicking their feet at the waves and jumping into them. The lazy river was nice too because they had a double person blow up ring. I took my daughter in one and my husband took my son in the other and we just followed each other .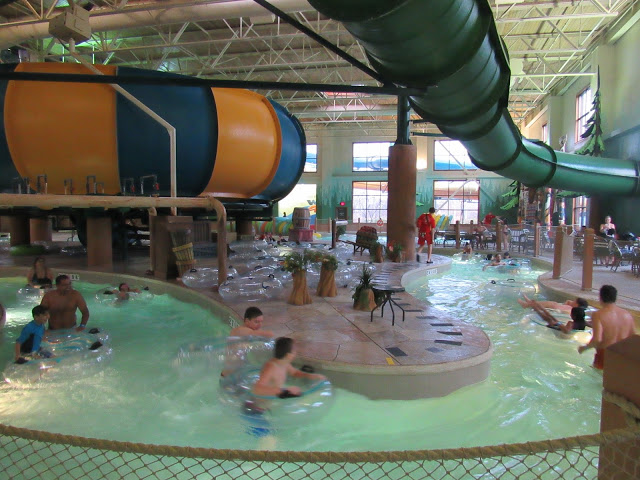 They have complimentary towels that you can use, and if you forgot something they have a "Swim Wear" Store that sell bathing suits, little swimmers (I forgot those last year!), goggles and they even have lockers that you can rent as well to store your stuff.
For the first time this trip, we got the "Paw Pass." My friends always said how good it was, so we decided to try it out. Let me tell you it's so worth the money. It was such a fun experience for the kids, they loved it! The Paw Pass included:
*One MagiQuest game
*One MagiQuest classic wand or classic topper
*One quarter pound of fudge
*One animal from their Great Wolf Stuffing Station (outfit not included)
*One 5×7 Paw Prints water park action photo
*20 Paw Points and game card for Northern Lights Arcade
*One gift at Scooops Kid Spa
*Two games of bowling at Ten Paw Alley or one game at Wacky Wilderness Mini Golf
*Two Great Wolf Kids activities in Cub Club
*One pair of wolf ears
When you book your stay, you get the Paw Pass for only $64.99! It retails for $119.89
Getting the passes for both kids worked out great for us. We took advantage of everything after dinner when the water park was closed. We did a MagiQuest game, went to the Arcade, and bowled. It was a lot of fun!
The kids loved getting to pick out their animal from the Great Wolf Station and got it stuffed right before their eyes!


Right before bed we went to the main lobby for a dance party. All the kids danced to music while they played Christmas Carols, and had fake snow blowing in the air. They also stayed for Story Time as well.
To finish off the evening, they had fires going out front to roast marshmallows which was so much fun!
For our room, we stayed in the Kids Cabin. It was super cute. It had 1 queen size bed for us, and a cabin room with 3 beds ( 2 were bunk beds) for the kids. Each section of the room had it's own tv, so the kids could watch their shows and we could watch ours. It also had a nice fireplace, a balcony and a small kitchenette which had a sink, microwave and mini fridge. 

I'd have to say one of my favourite parts of our stay was waking up in the morning and eating breakfast inside this life-sized Gingerbread House! Hands down!
I didn't know this, but since 2007, Great Wolf Lodge has been creating these life-sized Gingerbread Houses for a fundraiser for Ronald McDonald House. The house is absolutely amazing! The walls, doors and features are all baked, iced, candied and sugared. They kids were in their glory. They just couldn't stop staring at it. I couldn't believe that over 700 hours were dedicated to building this Gingerbread House. They have a Pastry Team, and an Engineering Team that worked hard together to make this house for such a good cause. Everything from the outside to the inside was displayed with so much creativity, detail, hard work and LOVE!
Inside was a large table in the centre, surrounded by an adorable little window, Christmas tree, and a fireplace that had a mantle made out of candy. They also had the cutest miniature village with a train that rode around a track that went inside and outside of the house. Another special touch they added that I loved, was all the framed pictures of all the past Gingerbread House. It was so neat to see how they all differed from year to year.
You can enjoy a private breakfast, lunch or dinner inside this Gingerbread House by making a reservation before your stay, and giving a donation to Ronald McDonald House once you have finished eating.
260 families have dined inside the Gingerbread House, and their seating donations have raised over $50,000 since the fundraiser started 10 years ago. Isn't that amazing?!!
I have always loved the food at Great Wolf Lodge. They have an all you can eat dinner which is amazing. They had mussels, all different kids of pizza, flank steak, veggies, salad and so much more. They even had a perogie station!