Our drive wasn't long at all. It took us approx. 2 hours to get to the resort. Check in is at 3:00pm, but they allow you to come anytime after 1:00pm to use their amenities until your room is ready.
The resort has private chalets, Jacuzzi Suites and inns available for rent. All rooms can accommodate anywhere from 2 to 8 people. We booked a 1 bedroom, private chalet for our stay. It had a queen bed in the bedroom with a queen pullout in the living room. It also had a wood burning fireplace and a 4 piece bathroom. It was perfect for us.
Each room is equipped with a Flat Screen TV, DVD Player, Mini Fridge, Coffee Maker, Hair Dyer, Iron and Ironing Board. They also have hundreds of DVD movies to sign out and take back to your room. My son had so much fun picking out a movie each night to watch together in our room. They even have wireless Internet!!
In the Main Lodge there is a lobby, dining room and lounge. When booking, the rate for your room doesn't include food, so you have the option of buying a meal plan which we did. Cost was $45 per adult and $25 per child. At that rate, you receive a 3 course dinner meal and breakfast. I was so impressed with the food. It was soooo good and they give you a lot of options to choose from. Fountain drinks, tea and coffee is also included. All alcohol drinks were extra that you can charge to your room. They also have meals on the menu that weren't included in the meal plan. However, for a small extra charge you could still get it.
Only open from the end of June to early September is Daisy's Dockside Patio. We ate lunch here during our stay. It was very convenient and the food was great. We loved sitting by the water watching all the boats go by. The restaurant is also open to the public, and is the only direct waterside licensed patio restaurant in Haliburton.
Beside the restaurant, they have Scoops Kawartha Dairy Ice Cream Hut which is open daily during the summer. Everyday after lunch we went there for some ice cream- it was so good!
After our ice cream my husband and son fished off the docks and caught so many fish. They had so much fun.
So many amenities are included in your stay. They have a great sandy beach with beach toys for the kids. For water sports they have Canoes, Kayaks, Paddleboats and Barracuda Water Bikes. They also have a Water Trampoline with Catapult, Log Roll, Water Slide, and a Floating Otter Raft to swim too.

They also have 2 playgrounds for kids, Badminton, Basketball, Horseshoes, Mountain Biking, Beach Volleyball and a Fitness Cabin. For those chilly nights, they also have a fire pit too. 
During the winter months, they have On Site Cross Country Skis, Snowshoes, Ice Skates, Ice Fishing and Toboggans.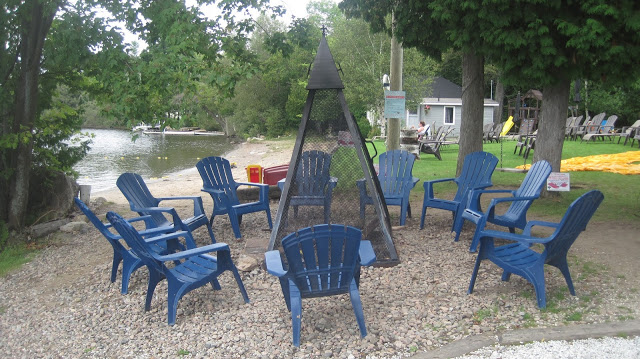 From the end of June to the beginning of September they have Kids Club. Kids ages 2-10 can eat, play games, and do crafts together supervised, while you can enjoy some adult time. It runs nightly from 5:30-9pm.
As always I had a great time back at Bonnie View Inn, and my family loved it too! It brought back so many memories for me. We'll definitely be back!!
If you're looking for a small getaway with your family, I would look into coming here. It's a great family resort, and it's open all year around.
They also host weddings as well. If you are newly engaged and looking for a venue, they can accommodate anywhere from 5 to 200 people.