Finding things to do over the summer to keep the kids busy has been pretty easy. We go to the park, splash pads, the beach, the zoo, see a movie etc. What actually has been a challenge, was finding things to keep my son busy while my daughter napped. We would do puzzles together, or work on his numbers and letters, but it sometimes just got redundant, and he wanted to do something different. It's hard to think of things to do that don't involve leaving the house.
You can choose from either a single box to try it out, a monthly subscription of 3,6 or 12 months, or party boxes for your child's next birthday party!
They have so many different themes to choose from- Back to School, At the Zoo, Dinosaur Times, Princess Time and Pirate Experience are just to name a few.
My son was lucky enough to test one out, and I have to say he absolutely loved it! We walk to the mailbox everyday and I can't even begin to tell you how excited he was to receive his OWN package. I thought it was such a cute touch that they address each box with your child's name on it. He was so happy and couldn't wait to open it when we got home.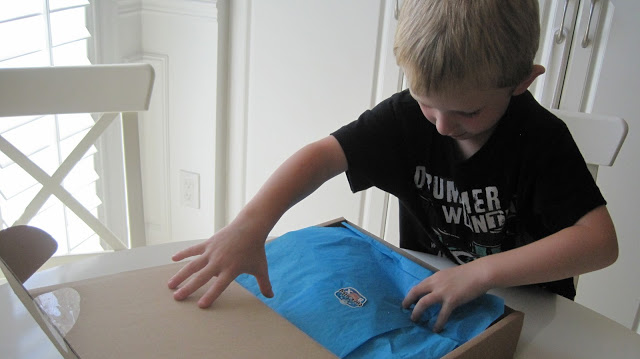 When you open the box, everything is organized and laid out so perfectly. The theme of his box was "at the beach & Canada" and it came with a pamphlet with all the instructions for each craft and activity. 
I liked how the box contained many different items that would keep him busy for the whole week. He worked on one craft or activity each day when my daughter napped, and had so much fun doing it.
Here is what came in his box:
1- A Beach Ball with some markers. I blew it up first, and then he coloured it the way he wanted. After he coloured it, we played with it in the backyard.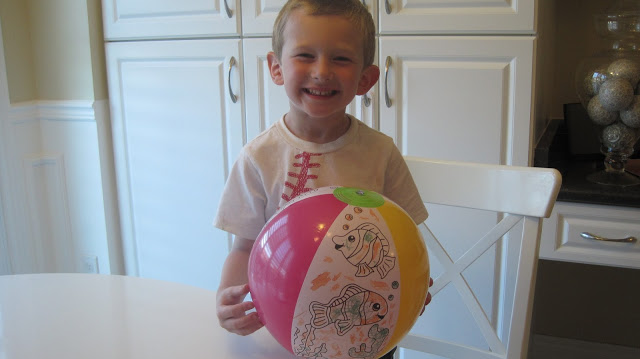 2- Beach Sand Art. This craft was pretty neat. You peel away selections on the picture that you want to colour. Pour coloured sand over it, and it sticks to the photo. It came with 6 colours of sand to complete your picture. 
3- Smile Face Sun Necklace. My son was so thoughtful and decided to make this one for his little sister. To make the sun was simple – just peel and stick. Then he added the beads to the sides of the necklace.

4- Fill Your Grocery Cart Game. This game was really fun, and you can play it in many different ways that they suggest on the pamphlet.
5-Sticker Sheet to create your own beach scene. I thought my son did a pretty good job with this. He was so proud of it, he hung it on the fridge so he could show his Dad when he got home.

6- Canada Matching Game. I liked that they thought of everything and even added a pencil sharpener to the kit!
If you are interested in ordering just a single box, they do offer Free Shipping if delivered anywhere in Canada!!

free shipping anywhere in Canada