Finding time to spend together as a family these days is sometimes very difficult, even on weekends. During the week, by the time by husband gets home the kids are almost ready for bed. He even works on Saturday which leaves only Sunday's together. Making time for family is very important, so when I received tickets to Medieval Times Dinner & Tournament I couldn't have been more excited. I knew it was going to be a great night of quality time together!
My husband and I have been to the show in the past, but this was a first time for my son and niece. They both couldn't have been more excited to go and see the show. The whole ride there we heard "Are we there yet?" "Are we almost there?" It was a shame my daughter wasn't feeling well and missed it cause she would of loved seeing all the horses.
The doors opened 75 minutes before the show, so we made sure to get there early. We wanted to tour around the castle with the kids before the show started. Once we entered the castle we were greeted as "Lords" and "Ladies." It was really funny because both kids quickly corrected them saying their actual names, lol. Once we received our tickets, we headed over to a table to pick up our crowns, which were blue. The colour of the crown indicated what knight we were going to be cheering for, and then we got a group photo taken.
Once we got inside, my husband and I purchased something to drink from the bar, and we looked around at all the gifts the vendors had. Of course, the kids wanted a light up sword, so we got them one each and they pretended they were knights while waiting for the show to start! We also watched all the children (aka. Lords and Ladies) who were celebrating a birthday get "Knighted"
Once the show started the kids couldn't keep their eyes off the show. We received the King's Royalty Package which gave us front row seating, and it was great because the kids could see perfectly. They were so excited to cheer for the blue knight and wave around their swords and flags. Included in the package, we also received our entrance group photo which was framed, a "Behind the Scenes" DVD, commemorative program, and knights cheering flag.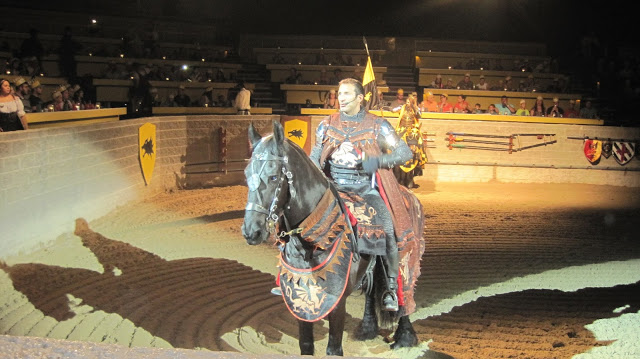 During the course of the show we were served our meals. We started with Tomato Soup and a slice of garlic bread. Then they came out with 1/2 a chicken…yes you read that right..1/2! It was huge! We also received 1/2 of a roasted potato and a 1/2 of piece of corn. I couldn't believe how much food we got! Oh and for dessert we got a large butter tart! Yum!
I have to say the 2 favourite parts for my son was the falcon that they had flying around, and the sword fighting. For my niece, well she was lucky enough to have our knight give her a flower, so that 100% made her night. She was so excited and felt so special.
It's been 3 days since we saw the show, and I haven't yet figured out how to get my son to stop sleeping with his sword! lol 
What a great show and it was so nice to spend some family time together.
Medieval Times in Toronto is located at 10 Dufferin St., Exhibition Place. Shows run almost everyday of the week including weekends. They have 3 times that you can choose from- 1:30pm, 4:30pm and 7:30pm, but they vary from day to day. Cost to park is $11.00 For more information and to book tickets to a show check out their website HERE
Now who wants to win tickets to a show??!!
I am giving away 4 General Admission Passes to a Medieval Times show in Toronto!
This contest starts today, Friday, July 10, 2015 and closes on Friday, July 31,2015 EST. Winner will be selected randomly and announced on Friday, July 31, 2015. This contest is open to Canadian Residents Only. Tickets would be valid until September 30, 2015
Good Luck to everyone who enters!